Wednesday, January 22, 2014 - 7:00pm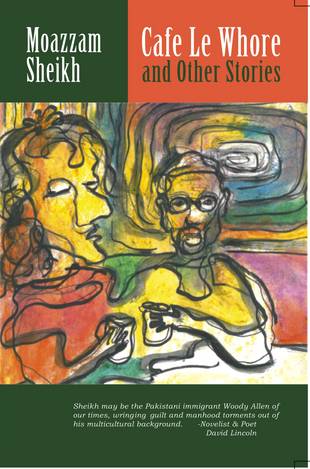 Join us in the Granny Smith Room on Wednesday, January 22nd at 7:00 p.m. as we welcome Moazzam Sheikh, who will be reading from his newest book Café Le Whore and Other Stories. 
Read Café Le Whore and Other Stories for a magic carpet ride . . . Sheikh may be the Pakistani immigrant Woody Allen of our times, wringing guilt and manhood torments out of his multicultural backdrops. (Indeed, Woody Allen gets a wink in the title story.) Sheikh's consciousness of style sometimes drives things to the point that he throws words at the page á la Jackson Pollack—it's worth it, especially as the syntax becomes more of an illustration of the kinds of challenges and barriers the characters must confront. Most readers will find this is a great collection to take on the plane or the subway, or just to sit around the house and read. These stories will relieve your inner tension and add a little spice to your diet.
- David Lincoln
For Moazzam Sheikh the human, the political, and the sexual are inseparable. In these ten delicately nuanced stories, full of humor and pathos, Sheikh pushes the limits of language and our understanding of the world. His stories offer a poignant meditation on our place, or the lack of, in the new global reality.
- Balaji Venkateswaran
The stories in Café Le Whore are many marvelous things, but they are always ghost stories. Ghost stories full of life. Stories about the places that once were, but are lost to a flood, or an infidelity. There are ghosts of difficult mothers and kings of Bollywood and Punjabi gypsies. There are surprises in every story—and in every sentence, because Moazzam Sheikh is the rare storyteller, who knows that it is, in fact, as important that a writer tell it as it is for the writer to show.  
- Brian D. Bouldrey