Thursday, June 12, 2014 - 7:00pm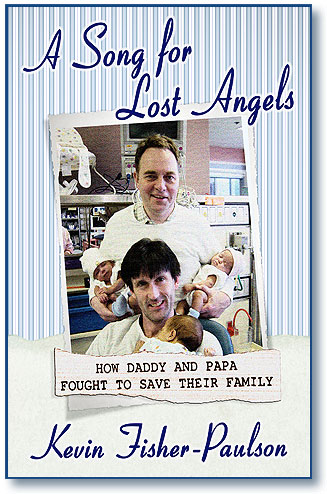 This book tells the intimate history of a family of two men plus triplets that came together suddenly one day, and thrived for a year before being torn apart by groundless prejudice. San Francisco author Kevin Fisher-Paulson tells this riveting story with grace, dignity, and a surprisingly generous dose of humor. "After a week of not sleeping, Papa and I got into the routine of baby care: feed the baby, burp the baby, change the baby, put the baby to bed, wash baby's clothes, rinse out baby's bottle, and make more formula, just about in time to start feeding the baby. Oh, and that process was in duplicate. In fact it was in duplicate with a third kid in the hospital, across the bay. I often found that I was still in my bathrobe at three o'clock in the afternoon. The witty gay couple with lots of time for canapés and cocktails had quickly turned into two sleep-deprived, middle-aged men." A Song for Lost Angels takes the discussion of gay marriage to the next level, where the rights and struggles of gay parents and their kids can be openly recognized. This family history will make you laugh, cry, and sometimes sputter with outrage, even as it redefines what Americans call "family values."

Email or call for price
ISBN: 9780988802421
Availability: Not Available to Order. Call or email for used stock availability.
Published: Fearless Books - November 1st, 2013
This book tells the intimate history of a family of two men plus triplets that came together suddenly one day, and thrived for a year before being torn apart by groundless prejudice. San Francisco author Kevin Fisher-Paulson tells this riveting story with grace, dignity, and a surprisingly generous dose of humor.
---