Saturday, April 25, 2015 - 7:00pm
This event will be held at our Clement street location.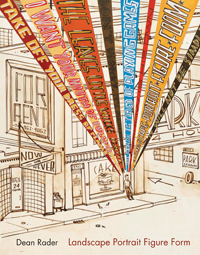 Green Apple Books is happily hosting a night of poetry with Daniel Wolff, Dean Rader, and Brian Komei Dempster for a reading in our Granny Smith Room on Saturday, April 25th, 2015 at 7pm.
Facebook RSVP requested but not required.
Daniel Wolff has published numerous well-received non-fiction books, including a national best-seller that won the Ralph J. Gleason Award for the best music book in 1985. He was nominated for a Grammy in 2003 and was named Literary Artist of 2013 for Rockland County, New York. He has also collaborated on documentary films with Jonathan Demme (Silence of the Lambs), pop songs, and performance pieces.
A field guide to perception, The Name of Birds (published by Four Way Books) is about how we see the "natural world." That is, how we approach what isn't us and name what we see. It also offers detailed observations of common North American birds.
Dean Rader's debut collection of poems, Works & Days, won the 2010 T. S. Eliot Poetry Prize. His most recent book, Landscape Portrait Figure Form, was named by the Barnes & Noble Review as one of the best poetry books of the year. Recent poems appear or will appear in Best American Poetry, American Poetry Review, Blackbird, Kenyon Review, Southern Review, Boston Review, Ploughshares and Zyzzyva, which ran a folio of his poems in their fall 2013 issue. 99 Poems for the 99 Percent: An Anthology of Poetry, which Rader edited, appeared in July and hit #1 on the SPD Poetry Bestseller List. His collection, Self-Portrait as Wikipedia Entry is forthcoming in 2016 from Copper Canyon. He is a Professor of English at the University of San Francisco.
Brian Komei Dempster's debut book of poetry, Topaz, was published by Four Way Books in 2013 and received the 15 Bytes 2014 Book Award in Poetry. Dempster is editor of From Our Side of the Fence: Growing Up in America's Concentration Camps (Kearny Street Workshop, 2001), which received a 2007 Nisei Voices Award from the National Japanese American Historical Society, and Making Home from War: Stories of Japanese American Exile and Resettlement (Heyday, 2011). He is a professor of rhetoric and language and a faculty member in Asian Pacific American Studies at the University of San Francisco, where he also serves as Director of Administration for the Master of Arts in Asia Pacific Studies.

$13.15
ISBN: 9781890650735
Availability: NOT on our shelves now. Usually ships 1-10 business days from warehouse. ETA will be updated with email order confirmation.
Published: Omnidawn - February 4th, 2014
A frog and a toad walk into a book of poems. They meet Paul Klee, Hieronymus Bosch, Adrienne Rich, Sesshu Toyo, Mark Twain, all of them escorted by Dean Rader. There are adventure poems, landscapes, assassins, self portraits, there are what some might call "ideas" mixed with some very funny moments, and what we might quite seriously call "emotions."
---

Email or call for price
ISBN: 9781935536338
Availability: Not Available to Order. Call or email for used stock availability.
Published: Four Way Books - October 1st, 2013
Topaz examines the experiences of a Japanese American family separated and incarcerated in World War II prison camps and considers how this incarceration affected the family. Moreover, this collection delves into the lasting impact of this imprisonment on future generations.
---