Thursday, February 15, 2018 - 7:30pm
This event will be held at our 9th Ave. location.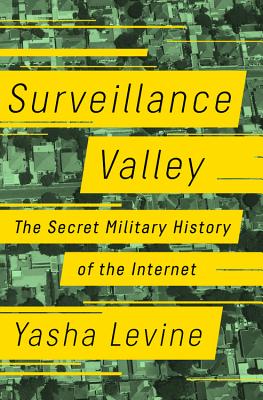 Yasha Levine discusses his new book Surveillance Valley: The Secret Military History of the Internet.
About Surveillance Valley
An investigative reporter unearths the true history of the internet: it was built by the government to spy on citizens, at home and abroad.

With each passing year the internet becomes more and more a part of modern life. Despite story after story of hacks, malware, government surveillance, and corporate corruption, we continue to rely on the web for ever more social functions, and we largely think of Silicon Valley as a neutral, even idealistic, business hub. Rarely do we consider the for-profit surveillance business operated within its confines, nor do we think much about the military origins of the platforms and tools we use every day.
In Surveillance Valley, Yasha Levine traces the history of the internet back to its beginnings as a Vietnam-era tool for spying on guerrilla fighters and antiwar protesters--a military computer networking project that ultimately envisioned the creation of a global system of surveillance and prediction. Levine shows how the same military objectives that drove the development of early internet technology are still at the heart of Silicon Valley today. This revelatory and sweeping story will make you reconsider what you know about the most powerful, ubiquitous tool ever created.

$28.00
ISBN: 9781610398022
Availability: On Our Shelves Now. Call store for up-to-the-minute availability.
Published: PublicAffairs - February 6th, 2018
The internet is the most effective weapon the government has ever built.




In this fascinating book, investigative reporter Yasha Levine uncovers the secret origins of the internet, tracing it back to a Pentagon counterinsurgency surveillance project.

---