Friday, June 19, 2015 - 7:30pm
This event will be held at our 9th Ave. store.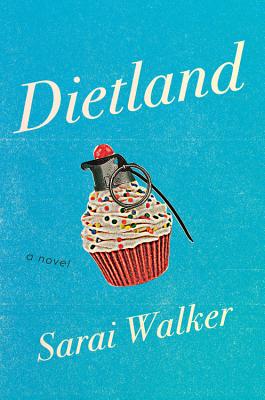 Virgie Tovar, Kjerstin Gruys, and Sarai Walker in conversation about Sarai's debut novel (and June Indie Next pick!), Dietland.
Praise for Dietland:
"Hilarious, surreal, and bracingly original, Walker's ambitious debut avoids moralistic traps to achieve something rarer: a genuinely subversive novel that's also serious fun...Part Fight Club, part feminist manifesto, an off-beat and genre-bending novel that aims high—and delivers." — Kirkus, starred review
"Sarai Walker has written a call to arms. Devious, subversive, delightful, DIETLAND is a Scum Manifesto set to a pop music beat and Plum Kettle a feminist hero for the modern age." —ALICE SEBOLD, author of The Lovely Bones
"DIETLAND is a book I have been waiting for someone to write all my life, and it hit me hard right where I live, right where so many of us have wasted too much time living. It's courageous, compassionate, intelligent, pissed off and much more fun than it has any right to be. I can think of twenty people I want to buy it for without even trying."
—Pam Houston, author of Contents May Have Shifted
About Dietland:
The diet revolution is here. And it's armed.

Plum Kettle does her best not to be noticed, because when you're fat, to be noticed is to be judged. Or mocked. Or worse. With her job answering fan mail for a popular teen girls' magazine, she is biding her time until her weight-loss surgery. Only then can her true life as a thin person finally begin.

Then, when a mysterious woman starts following her, Plum finds herself falling down a rabbit hole and into an underground community of women who live life on their own terms. There Plum agrees to a series of challenges that force her to deal with her past, her doubts, and the real costs of becoming "beautiful." At the same time, a dangerous guerrilla group called "Jennifer" begins to terrorize a world that mistreats women, and as Plum grapples with her personal struggles, she becomes entangled in a sinister plot. The consequences are explosive.

"Dietland "is a bold, original, and funny debut novel that takes on the beauty industry, gender inequality, and our weight loss obsession--from the inside out, and with fists flying.

Email or call for price
ISBN: 9780544373433
Availability: Hard to Find. Not available to order. Call or email for used stock availability.
Published: Houghton Mifflin Harcourt - May 26th, 2015
AN AMC ORIGINAL SERIES
FROM EXECUTIVE PRODUCER MARTI NOXON, 
STARRING JOY NASH AND JULIANNA MARGULIES

A Best Book of the Year
Entertainment Weekly • Bustle • Amazon • Women's National Book Association • Kirkus Reviews • BookPage • Kobo • LitReactor
  
"Audacious a

---

$15.99

ISBN: 9781580054386

Availability: NOT on our shelves now. Usually ships 1-10 business days from warehouse. ETA will be updated with email order confirmation.

Published: Seal Press - October 16th, 2012

---

$18.70

ISBN: 9781583335482

Availability: NOT on our shelves now. Usually ships 1-10 business days from warehouse. ETA will be updated with email order confirmation.

Published: Avery - July 2014

A scholar and bride-to-be spends a year without mirrors to get a better view of what really matters


---