Wednesday, June 13, 2018 - 7:30pm
This event will be held at our 9th Ave. location.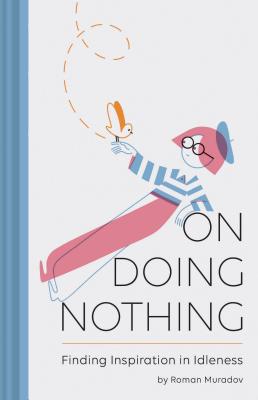 Roman Muradov discusses his new book, On Doing Nothing: Finding Inspiration in Idleness.
Praise for On Doing Nothing
"Roman Muradov's whimsical, clever, and companionable book On Doing Nothing provides a much-needed correction to our distracted, anxiety-ridden, and increasingly disembodied culture. Muradov has written and illustrated a kind of Situationist, Oulipian Ways of Seeing—a manual for clarity and presence, a book which issues a call to attention; a call to pay attention. The smart yet approachable philosophical reflections unfold like a leisurely stroll through a beautiful and unfamiliar city, provoking thoughtfulness and eliciting in the reader a spirit of discovery." —Peter Mendelsund, author of What We See When We Read
About On Doing Nothing
In an age of obsessive productivity and stress, this illustrated ode to idleness invites readers to explore the pleasures and possibilities of slowing down. Beloved author and illustrator Roman Muradov weaves together the words and stories of artists, writers, philosophers, and eccentrics who have pursued inspiration by doing less. He reveals that doing nothing is both easily achievable and absolutely essential to leading an enjoyable and creative life. Cultivating idleness can be as simple as taking a long walk without a destination or embracing chance in the creative process. Peppered with playful illustrations, this handsome volume is a refreshing and thought-provoking read.

$14.25
ISBN: 9781452164267
Availability: NOT on our shelves now. Usually ships from warehouse in several days.
Published: Chronicle Books - June 12th, 2018
In an age of obsessive productivity and stress, this illustrated ode to idleness invites readers to explore the pleasures and possibilities of slowing down. Beloved author and illustrator Roman Muradov weaves together the words and stories of artists, writers, philosophers, and eccentrics who have pursued inspiration by doing less.

---

Not available to order

ISBN: 9781907704956

Availability: Hard to Find. Not available to order.

Published: Nobrow - September 16th, 2014

The first graphic novel by rising star Roman Muradov explores the theme of innocence by treating it as a tangible object—something that can be used, lost, mistreated. Roman Muradov's crisp delicate style conjures a world of strange bookstores and absurd conspiracies.

---

$16.99

ISBN: 9781941250105

Availability: NOT on our shelves now. Usually ships from warehouse in several days.

Published: Uncivilized Books - December 13th, 2016

Jacob Bladders: illustrator, braggart, and victim of assault by thugs sent by the mysterious Charlie. Part satire of commercial art, part noirish detective story, part puzzle to be solved or left in pieces. Roman Muradov's latest is an ink-smeared Blakean vision of 1940s New York where Twitter exists as a network of pneumatic tubes, but artwork is still delivered by hand.

---