Tuesday, October 3, 2017 - 7:30pm
This event will be held at our 9th Ave. location.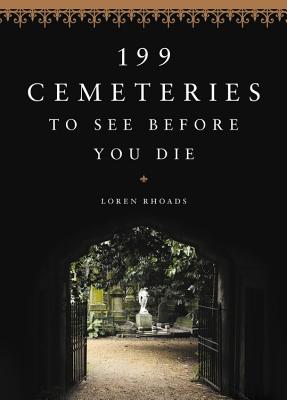 Loren Rhoads discusses her new book, 199 Cemeteries to See Before You Die.
Praise for 199 Cemeteries to See Before You Die
"Once upon a time, we knew that cemeteries were meant for the living as much as for the dead. In 199 Cemeteries to See Before You Die, Loren Rhoads does much to restore the cemetery to its proper place as a location worthy of a pilgrimage. From the colorful wooden graves of Romania's Merry Cemetery to the creative granite headstones in Vermont's Hope Cemetery, 199 Cemeteries is filled with beautiful examples of posthumous humor, astonishing artistry, and natural settings that rival the world's best parks. A much-needed book for the curious explorer and budding taphophile (cemetery-lover) alike."—Dylan Thuras, Co-Founder, Atlas Obscura
About 199 Cemeteries to See Before You Die
More than 3.5 million tourists flock to Paris's P?re Lachaise cemetery each year. They are lured there, and to many cemeteries around the world, by a combination of natural beauty, ornate tombstones and crypts, notable residents, vivid history, and even wildlife. Many also visit Mount Koya cemetery in Japan, where 10,000 lanterns illuminate the forest setting, or graveside in Oaxaca, Mexico to witness Day of the Dead fiestas. Savannah's Bonaventure Cemetery has gorgeous night tours of the Southern Gothic tombstones under moss-covered trees that is one of the most popular draws of the city.
199 Cemeteries to See Before You Die features these unforgettable cemeteries, along with 196 more, seen in more than 300 photographs. In this bucket list of travel musts, author Loren Rhoads, who hosts the popular Cemetery Travel blog, details the history and features that make each destination unique. Throughout will be profiles of famous people buried there, striking memorials by noted artists, and unusual elements, such as the hand carved wood grave markers in the Merry Cemetery in Romania.

$27.99
ISBN: 9780316438438
Availability: On Our Shelves Now. Call store for up-to-the-minute availability.
Published: Black Dog & Leventhal - October 3rd, 2017
A hauntingly beautiful travel guide to the world's most visited cemeteries, told through spectacular photography and their unique histories and residents.

---