Tuesday, April 14, 2015 - 7:30pm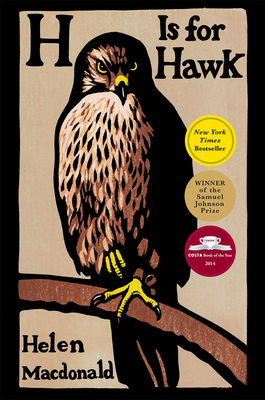 Helen Macdonald will be in conversation with Marie Mockett about her Costa and Samuel Johnson Prize-winning memoir, H is for Hawk.
Praise for Helen Macdonald:
"A lovely touching book about a young woman grieving over the death of her father becoming rejuvenated by training one of the roughest, most difficult creatures in the heavens, the goshawk." - Jim Harrison
"It sings. I couldn't stop reading." - Mark Haddon
"The most magical book I have ever read." - Olivia Laing
"Her book is so good that, at times, it hurt me to read it. It draws blood, in ways that seem curative." - NY Times Book Review
About H is for Hawk:
"Hawks don't grieve. Hawks don't hurt. Hawks hunt. Hawks kill. So it was that one damp early morning on a Scottish quayside a man opened a cardboard box in front of me and brought out a flapping, terrifying bird with curved black talons and lambent silver eyes. I called her Mabel, and brought her back to Cambridge to start our new life."
When Helen Macdonald's father died suddenly on a London street, she was devastated. An experienced falconer—Helen had been captivated by hawks since childhood—she'd never before been tempted to train one of the most vicious predators, the goshawk. But in her grief, she saw that the goshawk's fierce and feral temperament mirrored her own. Resolving to purchase and raise the deadly creature as a means to cope with her loss, she adopted Mabel, and turned to the guidance of The Once and Future King author T.H. White's chronicle The Goshawk to begin her challenging endeavor. Projecting herself "in the hawk's wild mind to tame her" tested the limits of Macdonald's humanity and changed her life.
Heart-wrenching and humorous, this book is an unflinching account of bereavement and a unique look at the magnetism of an extraordinary beast, with a parallel examination of a legendary writer's eccentric falconry. Obsession, madness, memory, myth, and history combine to achieve a distinctive blend of nature writing and memoir from an outstanding literary innovator.

$26.00
Temporarily Unavailable
ISBN: 9780802123411
Published: Grove Press - March 3rd, 2015
One of the New York Times Book Review's 10 Best Books of the Year

One of Slate's 50 Best Nonfiction Books of the Last 25 Years
---

$19.95
Temporarily Unavailable
ISBN: 9781861892386
Published: Reaktion Books - March 15th, 2006
A sacred god, a military tool, an erotic symbol: the falcon is a natural wonder of speed, power, beauty, and ferocity that has become embedded in human cultures in myriad ways. Helen Macdonald's Falcon examines the diverse symbolism and roles attached to the falcon throughout the centuries.
---