Thursday, May 5, 2016 - 7:30pm
This event will be held at our 9th Ave. store.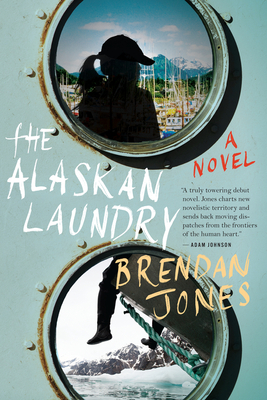 Brendan Jones reads from his debut novel, The Alaskan Laundry.
Praise for The Alaskan Laundry:
"This is a truly towering debut novel. Brendan Jones charts new novelistic territory and sends back moving dispatches from the frontiers of the human heart." — Adam Johnson, author of The Orphan Master's Son
"The Alaskan Laundry is a gorgeous and powerful novel that succeeds both as a page-turning adventure story and an evocative exploration of the meaning of home. With acute psychological precision and a naturalist's attention to detail, Brendan Jones has created a hauntingly beautiful novel that will stay with me for a long time." – Molly Antopol, author of The Unamericans
"The Alaskan Laundry is a novel of bracing air that gets deep into your lungs. As Tara Marconi reinvents herself in Alaska, we see all facets of the American dream of self-reliance and boundless possibility play out on the stage of the Last Frontier. A strong, singular person grows in these pages. Like a protagonist in a Daniel Woodrell novel, she is stubborn, heroic, and capable of anything." — Will Chancellor, author of A Brave Man Seven Storeys Tall
About the Alaskan Laundry:
A fresh debut novel about a lost, fierce young woman who finds her way to Alaska and finds herself through the hard work of fishing, as far as the icy Bering Sea.

Tara Marconi has made her way to The Rock, a remote island in Alaska governed by the seasons and the demands of the world of commercial fishing. She hasn t felt at home in a long while her mother's death left her unmoored and created a seemingly insurmountable rift between her and her father. But in the majestic, mysterious, and tough boundary-lands of Alaska she begins to work her way up the fishing ladder from hatchery assistant all the way to King crabber. She learned discipline from years as a young boxer in Philly, but here she learns anew what it means to work, to connect, and in buying and fixing up an old tugboat how to make a home she knows is her own. A beautiful evocation of a place that can't help but change us and a testament to the unshakable lure of home, The Alaskan Laundry also offers an unforgettable story of one woman's journey from isolation back to the possibility of love.

$16.45
ISBN: 9780544325265
Availability: NOT on our shelves now. Usually ships 1-10 business days from warehouse. ETA will be updated with email order confirmation.
Published: Mariner Books - April 26th, 2016
In waters as far and icy as the Bering Sea, a fierce, lost young woman finds herself through the hard work of fishing and the stubborn love of real friendship.
 
Tara Marconi has made her way from Philly to "the Rock," a remote island in Alaska governed by the seasons.

---