Tuesday, May 10, 2016 - 7:30pm
This event will be held at our 9th Ave. store.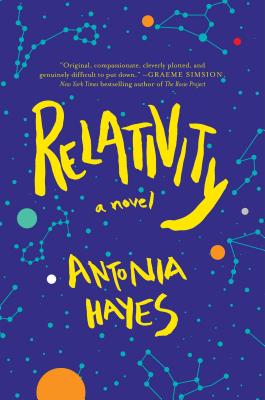 Antonia Hayes talks about her debut novel, Relativity, with Sophie Cunningham.
Praise for Relativity:
"Relativity is wonderful, a beautifully written, heartbreaking novel that I feel certain will find the huge audience it deserves." -- SJ Watson, author of Before I Go to Sleep
"Original, compassionate, cleverly plotted, and genuinely difficult to put down. The premise is compelling and the plot twists and turns without ever feeling forced. This novel is an intelligent, honest and compassionate look at people and relationships under stress: the shocking revelation [in it] is tempered with real insight as to how such things happen." -- Graeme Simsion, author of The Rosie Project
"Relativity is a novel of assured and measured empathy, a story of familial love and familial hurt that is fair, honest and remarkably non-judgemental. Hayes is a convincing writer and a true storyteller: her characters are alive." -- Christos Tsiolkas, author of The Slap
"A charming and fresh debut placing a family's secrets in the great expanse of the universe." -- Kirkus Reviews
About Relativity:
A beautifully written, heartbreaking (S. J. Watson) debut novel about a gifted boy who discovers the truth about his past, his overprotective single mother who tries desperately to shield him from it, and the father he has never met who has unexpectedly returned.

Twelve-year-old Ethan Forsythe, an exceptionally talented boy obsessed with physics and astronomy, has been raised alone by his mother in Sydney, Australia. Claire, a former professional ballerina, has been a wonderful parent to Ethan, but he's becoming increasingly curious about his father's absence in his life. Claire is fiercely protective of her talented, vulnerable son and of her own feelings. But when Ethan falls ill, tied to a tragic event that occurred during his infancy, her tightly-held world is split open.

Thousands of miles away on the western coast of Australia, Mark is trying to forget about the events that tore his family apart, but an unexpected call forces him to confront his past and return home. When Ethan secretly intercepts a letter from Mark to Claire, he unleashes long-suppressed forces that like gravity pull the three together again, testing the limits of love and forgiveness.

Told from the alternating points of view of Ethan and each of his parents, "Relativity" is a poetic and soul-searing exploration of unbreakable bonds, irreversible acts, the limits of science, and the magnitude of love.