Manipulation and Dark Psychology: How to Stop being Manipulated and Defend Yourself from Dark Psychology. You Finally will Discover the Manipulation T (Paperback)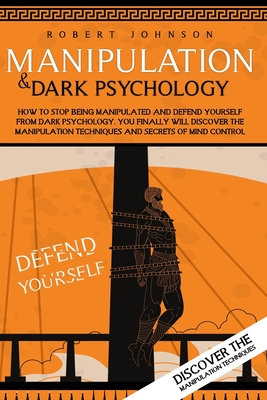 $22.29

NOT on our shelves now. Usually ships from warehouse in several days.
(This book cannot be returned nor exchanged.)
Description
---
Defend Yourself from Manipulation and Discover how to Master your Mind.
Are you searching for the latest, most powerful insights into the art of dark psychology? Want to learn how to protect yourself from manipulative people, unearth the secrets of mind control, and gain a profound understanding of human behavior? Or are you looking for the best way to deal with narcissists and toxic people? Then this is the book for you.
Delve into the dark world of Manipulation and Psychology with this comprehensive guide, uncovering the countless different ways that people subconsciously influence each other - along with how you can use this knowledge to your own advantage.
Whether you want to stop yourself from being manipulated by harmful people, become a better leader and influencer, or transform your life with the help of neuro-linguistic programming, this guide is a must-read for anybody who wants to explore the dark side of human behavior.
In part one, you'll discover:
Understanding How People Manipulate Each Other (and How You Can Master This Skill)
Practical Ways To Spot Deception and Defend Yourself From Manipulation
The Best Things To Do If You're In a Relationship With a Narcissist
How To Overcome Negative Emotions With NLP
What To Do If You're Caught Trying To Influence Someone
Surprisingly Simple Ways To Spot If Someone Is Lying
And Much More...
And in part two, you'll find:
An Exploration of The Dark Triad and How People Try To Manipulate You
A Detailed Look at Dark Persuasion Techniques and Mind Games
Common Dark Psychology Myths - Debunked
The Top Ways To Defend Yourself From Toxic People
How To Master The Art of Body Language and Read Subconscious Cues
Ingenious Ways To Practice Dark Psychology In Your Everyday Life
And More
No matter your dark psychology goals, this brilliant guide reveals how you can harness the power of human psychology and behavior to achieve all your desired outcomes. Explained in a simple way that even complete beginners can begin implementing, this book offers you everything you need to know about dark psychology, manipulation, and more.
Scroll up and buy now to begin discovering the secrets of Dark Psychology today.