Sous Vide Cookbook for Beginners: Easy-to-Follow Guide to Cooking Restaurant-Quality Meals at Home (Paperback)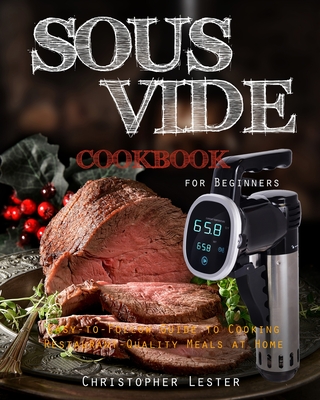 $14.84

NOT on our shelves now. Usually ships from warehouse in several days.
(This book cannot be returned nor exchanged.)
Description
---
Have you ever wondered how they manage to do those super tender mega-tasty meats in restaurants and cafes?

Actually, it is not a secret anymore-most of them own a truly magic device with a French name, Sous Vide. The foods are cooked with sous vide at lower temperatures. This way, no part of the food is ever heated above its ideal cooking temperature, saving all the juiciness and tenderness.
In the Complete Sous Vide Cookbook, we have collected all the most relevant tips and the best recipes to make sure that your sous vide at home experience is truly perfect:
HOW TO GET STARTED WITH SOUS VIDE COOKING FOR EVERYBODY? You will find useful tips, the best foods, and clear instructions for cooking.
EAT DELICIOUS RESTAURANT-QUALITY MEALS AT HOME. You will find original, easy-to-follow recipes for better home cooking.
WHAT CAN I COOK WITH SOUS VIDE? Try cooking eggs, pork, lamb, fish, vegetables, and desserts using your immersion cooker.
BE PREPARED TO SEE RECIPES THAT WILL MAKE YOU DROOL. Mouth-watering photos, clear and simple instructions, and nutritional information are provided.
HOW LONG DOES IT TAKE TO COOK? Each recipe furnishes preparation and cooking time.
USEFUL SOUS VIDE EQUIPMENT HELPS MAKE YOUR COOKING EASIER. For your convenience, we have included information about kitchen tools for the perfect home cooking.
INTERESTING FACTS ABOUT SOUS VIDE FOR EVERYBODY. You are provided with incredible facts and advantages.

By the way, Sous Vide cooking is not only an excellent match for meat and fish, but is ideally suited to make the most delicious vegetables, side dishes, fruit, and desserts. Get familiar with the tips and advice, and then select a recipe that you fancy. As you get more experienced, you can start experimenting with the settings and products, or just keep following the sous vide recipes and instructions for your favorite dishes.
The recipes are categorized into different chapters that range from:
Eggs and Dairy
Poultry
Meat
Seafood
Vegetables and Grains
Sauces and Infusions
Desserts
Well, with modern cooking appliances, the fairy tales have got closer than ever.
Pay attention to 2 options of the paperback (see All formats and editions):
black-white interior
color interior