Infj: INFJs in Relationships: The Ultimate Guide to Happy, Healthy and Rewarding Relationships for INFJ People (Paperback)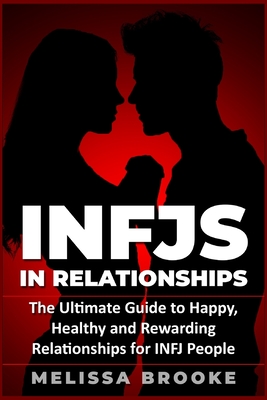 $9.19

NOT on our shelves now. Usually ships from warehouse in several days.
(This book cannot be returned nor exchanged.)
Description
---
Is it the INFJs destiny to live a life void of the soul-shattering connection that they desire? Can the most misunderstood of all the personality types ever find true happiness in a relationship?
If you are an INFJ, or are in a relationship with an INFJ, and want to discover the secrets to a healthy and rewarding relationship, then keep reading.
As one of the rarest personality types, INFJs are often misunderstood their whole lives. When they eventually commit to somebody, the need to be understood is more prevalent than ever.
INFJs, do you find yourself doubting that anyone could ever truly understand you on a deeper level?
INFJs report the highest rates of marital dissatisfaction, however, this does not need to be the case for you
Research has proven that educating couples on their partner's personality traits can increase relationship satisfaction and reduce divorce rates It really is that simple ...
In INFJs in Relationships: The Ultimate Guide to Happy, Healthy and Rewarding Relationships for INFJ People, Melissa Brooke uncovers the secrets to long-lasting enduring INFJ relationships. Melissa, an INFJ herself, is now 15 years into a happy and fulfilling relationship, and she wants to reassure all fellow INFJs that a happy, healthy and rewarding relationship is possible for them too.
Start building the strong foundations for your relationship today.
This book will help to spark those all-important conversations with your romantic partner. By the end of the book, your partner will feel that they understand you better than ever before. Together you are starting to build the strong foundations that will allow you to form deep and meaningful connections. Embrace the strengths of your INFJ personality, and work on your weaknesses to create a happy and healthy relationship that you always dreamed of.
There are no excuses to feel misunderstood in your relationship any longer
You no longer need to feel unseen or unheard; let your INFJ light shine. Help your partner to understand and appreciate exactly what you bring to the relationship when you can be freely and unapologetically you Taking the time to really understand how your personality traits manifest in your relationships will be one of your most valuable investments. Armed with the understanding and support of your partner, become your greatest INFJ version and be proud of who you are
Here Is a Preview of What You'll Discover in
INFJs in Relationships: The Ultimate Guide to Happy, Healthy and Rewarding Relationships for INFJ People:
The 4 Cognitive Functions of an INFJ
12 Unique Strengths That INFJs Bring to Relationships
Simple & Proven Strategies to Overcome INFJ Weaknesses in Romantic Relationships
What an INFJ Really Wants from a Romantic Partner
How Compatible Other Myers-Briggs Personality Types Are in INFJ Relationships (All 16 of Them)
Joint Exercises to Spark Communication Between Partners
Much, Much More
Don't give up on your dream of a happier, healthier, and more rewarding relationship before reading this book. Start building the strong, long-lasting, and meaningful relationship that you deserve, TODAY.
Click on the BUY NOW button at the top of this page to download this book to your PC, Mac, smartphone, tablet, or Kindle device.
Testimonial
"INFJS in Relationships by Melissa Brookes is a beautifully written short book outlining the needs & gifts of the INFJ personality type in a love relationship. As an INFJ myself, this book really touched my heart. Not only that, it showed how much more I can offer In relationships & identifies clearly what I need to be happy & fulfilled in these relationships." - Dan Mercer