How to Start, Run, and Grow a Non-Emergency Medical Transportation Business: A Step-By-Step Startup Guide to Starting a Successful NEMT Business (Paperback)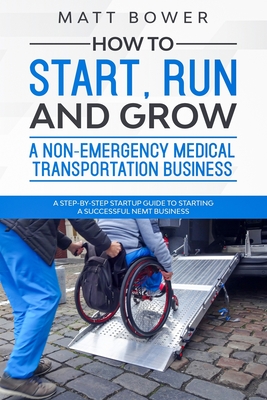 $14.43

NOT on our shelves now. Usually ships from warehouse in several days.
(This book cannot be returned nor exchanged.)
Description
---
"If you're looking for a thorough and practical guide to starting and operating a non-emergency medical transportation (NEMT) business, you've found the right book. The author covers every aspect of setting up a NEMT business and offers helpful hints and information for best practices in every step and facet of your journey. He even includes a short history of NEMT services and, in general, provides detailed advice throughout. In fact, I found useful information on every page (something I definitely can't say about many of the how-to and business-related books I've read over the years)." - T. Koehler

A Step-By-Step Startup Guide to Starting a Successful NEMT Business
Due to transportation barriers, about 3.6 million adults delay or miss non-emergency medical care yearly. Each year, for health systems, the results of these patient no-shows have severe consequences.

For those that find it hard to transport themselves to healthcare facilities or medical appointments, they enjoy the much-needed services of non-emergency medical transportation companies. Especially as the population of the United States gets progressively older, the need for non-emergency medical transportation will be on the rise.

Wouldn't you love to start a company that provides a much-needed and always in-demand service?
If you have a clean driving record, a desire to help those in need of transportation services to necessary medical appointments, and the drive to be your own boss, then maybe starting a NEMT company is right for you

In this How to Start, Run, and Grow a Non-Emergency Medical Transportation Business book, I will show you how to start, run, and grow a non-emergency transport business from scratch. We'll discuss everything from business plan to marketing, customer service to daily operations.

I will take you through a sample scenario of two ladies who started their own NEMT service company, how they wrote their own business plan, and how they run and grow their business. I wanted to impart as much practical, real-world advice as I could share with you so you could start your own venture off on the right foot.
In this book, I will show you:

What the NEMT business is, how it's defined and what solutions it provides

How NEMT business services work
The history of the non-emergency transport service industry
How NEMT services have evolved
Why this industry need is so important
What the current state of the NEMT business is
How to get your business started
Choosing a brand and a niche customer base

How and what to write in your business plan
How to set up your business structure
The legal and financial aspects of your new business
Advice on running your business daily
Advice on how to grow your business with marketing and advertising
How to go about collecting payments
Overall, the basic goal of this book is to give you some answers in your research about how to go about starting your own business to be your own boss.