Moving Towards Inclusive Education: Diverse National Engagements with Paradoxes of Policy and Practice (Studies in Inclusive Education #46) (Hardcover)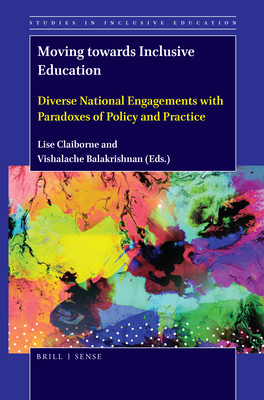 Not available to order
Stock uncertain--should fulfill within 10 days or so
Description
---
Moving towards Inclusive Education: Diverse National Engagements with Paradoxes of Policy and Practice presents perspectives from Asia-Pacific and Europe that have seldom been heard in international debates. While there may be global consensus around United Nations' goals for inclusion in education, each country's cultural and religious understandings shape national views regarding the priorities for inclusion. Some countries focus on disability, while others bring in concerns about culture, ethnicity, language, gender and/or sexuality. In this fascinating collection, senior commentators explore the ethical difficulties as well as hopes for a more inclusive education in their countries, raising questions of interest for educators, policy-makers and all who support the work of inclusive education.

Contributors are: Vishalache Balakrishnan, Bayarmaa Bazarsuren, Cleonice Alves Bosa, Yen-Hsin Chen, Lise Claiborne, Tim Corcoran, Bronwyn Davies, Carol Hamilton, Dorothea W. Hancock, Mashrur Imtiaz, Maria Kecskemeti, Silvia Helena Koller, Yvonne Leeman, Sonja Macfarlane, Roger Moltzen, Sikder Monoare Murshed, Sanjaabadam Sid, Simone Steyer, Eugeniusz Świtala, Wiel Veugelers, and Ben Whitburn.
About the Author
---
Lise Claiborne, Ph.D., Australian National University, co-directs the Difference, Diversity, Inclusion Research Unit at the University of Waikato, New Zealand. She has published many articles on difference, inclusion and educational psychology, and co-authored four editions of Human Development (McGraw-Hill). Vishalache Balakrishnan, Ph.D., Victoria University of Wellington, is the Director for Centre for Research in International and Comparative Education, University of Malaya, Malaysia. She has published many articles and books on moral and civics education and multicultural education.