El pequeño tractor que quiere dormirse Un nuevo método para ayudar a los niños a dormir/ The Tractor Who Wants to Fall Asleep (Hardcover)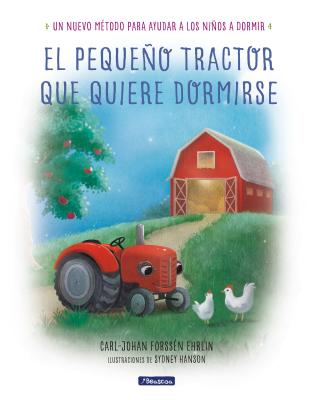 $16.45

NOT on our shelves now. Usually ships from warehouse in several days.
Description
---
Después de El conejito que quiere dormirse y La elefantita que quiere dormirse, llega El pequeño tractor que quiere dormirse, la tercera entrega de la serie de best seller mundiales para leer en voz alta que ha revolucionado el género de cuentos para dormir.
Un nuevo método para ayudar a los niños a conciliar el sueño, una herramienta recomendada y elogiada por padres, psicólogos y terapeutas.
Consigue que tu hijo se duerma con la historia del pequeño tractor rojo Álex, que quiere dormirse. Álex le guiará por un relajante y acogedor paseo por el campo, donde se encontrarán con sus amigos el conejito Carlitos y la elefantita Elena, Zanahoria Bostezos y León Mediodormido que lo ayudarán a calmarse y dormirse rápidamente, tanto en la hora de la siesta como por la noche.
Los cuentos de Carl-Johan Forssén Ehrlin han sido traducidos a varios idiomas y han ayudado a miles de padres en todo el mundo a que sus hijos se queden dormidos por la noche gracias al uso de técnicas recomendadas y elogiadas por psicólogos y terapeutas.
Escritos con lenguaje sencillo y con un diseño que fomenta la relajación, la serenidad y el sueño, estos cuentos hacen que los niños se duerman incluso antes de llegar al final de la lectura
ENGLISH DESCRIPTION
Do you struggle to get your child to sleep?
Join millions of parents all over the world and embrace a bedtime routine that will help your child to relax and fall fast asleep.

Let your child be lulled to sleep with Alex the Tractor in a sleep-inducing ride around the farm. Along the way they meet Yawning Carrot, Half-Asleep Leon, Sleeping Apples and other friends, who tell them what they do to fall asleep at night. Your child will have a soothing and relaxing experience and can fall asleep quickly – at naptime and bedtime.

The Tractor Who Wants to Fall Asleep is the third book in the bestselling, sleep-inducing series that makes children fall asleep around the world – parents say it´s almost like magic!

The author Carl-Johan Forssén Ehrlin uses innovative techniques that have been approved by parents and psychologists. A sequel to the groundbreaking bestseller The Rabbit Who Wants to Fall Asleep, with over 2.3 million copies sold worldwide.