Word Spotting in Offline Handwritten Documents (Paperback)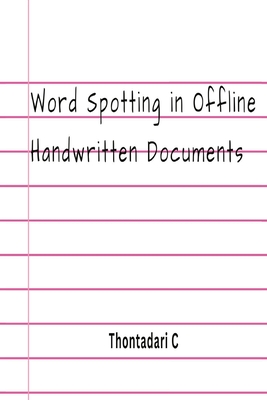 $34.00
Temporarily Unavailable
Description
---
In the phrase \Document Image", the word \Document" is derived from the
Latin word \documentum" which in Medieval Latin is referred to as a \written
instruction" is normally used to communicate and store information (Javed
2016). Document image processing is a subfield of digital image processing. It
mainly deals with the transformation of digitized document images into electronic
form for storage, transmission, reprocess, and modification. The objective of
document image processing is to recognize the text and graphics components in
document images, and to extract the intended information. Document image
processing can be categorized into two types such as Textual processing and
Graphics processing.
Textual processing deals with the text components of a
document image. Some tasks here are: recognizing the text by OCR, determining
the skew, finding columns, paragraphs, text lines, and words. Text document
images are composed of plain or illustrated text (books, magazines, newspaper,
archives) and structured text (forms, invoices, envelop).
Graphics processing deals with the non-textual line and
symbol components that make up line diagrams, delimiting straight lines between
text sections, company logos, etc. Graphics document images are composed of
maps, engineering drawings, and music sheets; their corresponding document
image processing goals are Geographic Information Systems (GIS) representation
for maps, Computer Aided Design (CAD) format for engineering drawing, and
Musical Instrument Digital Interface (MIDI) representation for music scores.