Taschenworterbuch Hebraisch Und Aramaisch Zum Alten Testament (Paperback)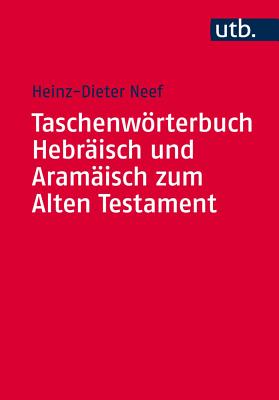 $37.80
Email or call for price.
Description
---
English summary: The Pocket Dictionary of Old Testament Hebrew and Aramaic contains all the vocabulary of the Old Testament, including the Aramaic parts and all proper, place and other names. Furthermore, it also offers a list of important words according to how frequently they occur. The pocket dictionary does not wish to replace the comprehensive Hebrew Lexicon, but rather aims to serve as a first point of reference when translating a book or text, preparing a sermon or lesson, translating in Bible courses or examination groups, or when searching for the German word and meaning of vocabulary. German description: Das Taschenworterbuch Hebraisch und Aramaisch zum Alten Testament enthalt alle Vokabeln des Alten Testaments unter Einschluss der aramaischen Teile. Ebenso sind alle Eigen-, Orts- und sonstige Namen des Alten Testaments enthalten. Zudem bietet es eine Zusammenstellung wichtiger Vokabeln des Alten Testaments nach der Haufigkeit ihres Vorkommens. Das Taschenworterbuch mochte die umfangreichen Lexika zum Hebraischen nicht ersetzen, sondern dient zur ersten orientierenden Ubersetzung eines Buches oder Textes bei Vorbereitungen zu Predigt und Unterricht, beim Ubersetzen im kleinen Kreis im Rahmen von Bibelkursen oder Examensgruppen oder bei der Suche nach deutschen Wiedergabemoglichkeiten und der Bedeutung von Vokabeln.