Empire of Pain: The Secret History of the Sackler Dynasty (Paperback)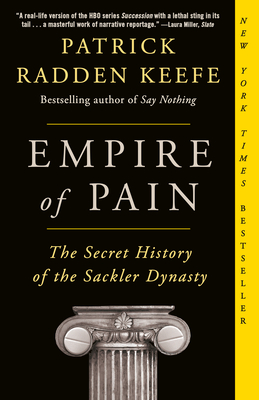 Description
---
NEW YORK TIMES BESTSELLER • A NEW YORK TIMES NOTABLE BOOK OF THE YEAR • A grand, devastating portrait of three generations of the Sackler family, famed for their philanthropy, whose fortune was built by Valium and whose reputation was destroyed by OxyContin. From the prize-winning and bestselling author of Say Nothing.

"A real-life version of the HBO series Succession with a lethal sting in its tail…a masterful work of narrative reportage." – Laura Miller, Slate

The history of the Sackler dynasty is rife with drama—baroque personal lives; bitter disputes over estates; fistfights in boardrooms; glittering art collections; Machiavellian courtroom maneuvers; and the calculated use of money to burnish reputations and crush the less powerful. The Sackler name has adorned the walls of many storied institutions—Harvard, the Metropolitan Museum of Art, Oxford, the Louvre. They are one of the richest families in the world, but the source of the family fortune was vague—until it emerged that the Sacklers were responsible for making and marketing a blockbuster painkiller that was the catalyst for the opioid crisis.

Empire of Pain is the saga of three generations of a single family and the mark they would leave on the world, a tale that moves from the bustling streets of early twentieth-century Brooklyn to the seaside palaces of Greenwich, Connecticut, and Cap d'Antibes to the corridors of power in Washington, D.C. It follows the family's early success with Valium to the much more potent OxyContin, marketed with a ruthless technique of co-opting doctors, influencing the FDA, downplaying the drug's addictiveness. Empire of Pain chronicles the multiple investigations of the Sacklers and their company, and the scorched-earth legal tactics that the family has used to evade accountability.

A masterpiece of narrative reporting, Empire of Pain is a ferociously compelling portrait of America's second Gilded Age, a study of impunity among the super-elite and a relentless investigation of the naked greed that built one of the world's great fortunes.
About the Author
---
PATRICK RADDEN KEEFE is a staff writer at The New Yorker and the author, most recently, of the New York Times bestseller Say Nothing: A True Story of Murder and Memory in Northern Ireland, which received the National Book Critics Circle Award for Nonfiction, was selected as one of the ten best books of 2019 by The New York Times Book Review, The Washington Post, the Chicago Tribune, and The Wall Street Journal, and was named one of the "10 Best Nonfiction Books of the Decade" by Entertainment Weekly. His previous books are The Snakehead and Chatter. His work has been recognized with a Guggenheim Fellowship, the National Magazine Award for Feature Writing, and the Orwell Prize for Political Writing. He is also the creator and host of the eight-part podcast Wind of Change.

Praise For…
---
New York Times Book Review 100 Notable Books of the Year • One of The Washington Post's 10 Best Books of the Year • TIME Magazine 100 Must Read Books of 2021 • One the Best Books of the Year: NPR, Slate, EW, Boston Globe, Goodreads, The Guardian, Town & Country, BuzzFeed, LitHub, Vulture, and more

Winner of the Baillie Gifford Prize for Non-Fiction and Finalist for the Baillie Gifford Winner of Winners Award

One of President Obama's Favorite Books of the Year

"An engrossing (and frequently enraging) tale of striving, secrecy and self-delusion….Keefe nimbly guides us through the thicket of family intrigues and betrayals… Even when detailing the most sordid episodes, Keefe's narrative voice is calm and admirably restrained, allowing his prodigious reporting to speak for itself. His portrait of the family is all the more damning for its stark lucidity." —Jennifer Szalai, The New York Times
 
"I read everything he writes. Every time he writes a book, I read it. Every time he writes an article, I read it … he's a national treasure." —Rachel Maddow, host of MSNBC's "The Rachel Maddow Show" and author of the #1 New York Times bestselling Blowout

"A true tragedy in multiple acts. It is the story of a family that lost its moorings and its morals… Written with novelistic family-dynasty and family-dynamic sweep, EMPIRE OF PAIN is a pharmaceutical FORSYTHE SAGA, a book that in its way is addictive, with a page-turning forward momentum."  —David M. Shribman, The Boston Globe
 
"A brutal, multigenerational treatment of the Sackler family… Keefe deepens the narrative by tracing the family's ambitions and ruthless methods back to the founding patriarch, Arthur Sackler…His life might be a model for the American dream, if it hadn't arguably laid the foundations for a still-unfolding national tragedy."  —Brian Mann, NPR.org
 
"The opioid epidemic has killed nearly half a million Americans over the past two decades. Many of their loved ones, along with public health advocates and experts, believe that one very rich, very famous family has never fully faced the consequences for its role in those deaths. EMPIRE OF PAIN, the explosive new book by journalist Patrick Radden Keefe, is an attempt to change that — to hold the family accountable in a way that nobody has quite done before, by telling its story as the saga of a dynasty driven by arrogance, avarice and indifference to mass suffering…. Keefe marshals a large pile of evidence and deploys it with prosecutorial precision.   Keefe is a gifted storyteller who excels at capturing personalities." —Jonathan Cohn, The Washington Post

"Keefe has a way of making the inaccessible incredibly digestible, of morphing complex stories into page-turning thrillers, and he's done it again with Empire of Pain…A scathing — but meticulously reported — takedown of the extended family behind OxyContin, widely believed to be at the root cause of our nation's opioid crisis.  It's equal parts juicy society gossip and historical record of how they built their dynasty and eventually pushed Oxy onto the market."  —Seija Rankin, Entertainment Weekly
 
 "An air-tight indictment of the family behind the opioid crisis….[an] impressive exposé." —Harriet Ryan, The Los Angeles Times

"A damning portrait of the Sacklers, the billionaire clan behind the OxyContin epidemic. If you are someone who engages in this kind of sneaky conduct, the last person you want reporting on you is Keefe….[He] has a knack for crafting lucid, readable descriptions of the sort of arcane business arrangements the Sacklers favored. He is also indefatigable….The Sackler infighting described in Empire of Pain will surely prompt many comparisons to the HBO series Succession." —Laura Miller, Slate

"One of the Ten Best Books of 2021"
– Laura Miller, Slate

"Put simply, this book will make your blood boil….a devastating portrait of a family consumed by greed and unwilling to take the slightest responsibility or show the least sympathy for what it wrought….a highly readable and disturbing narrative." —John Carreyrou, The New York Times Book Review (cover)
 
"Rigorously reported and brilliantly executed Empire of Pain hones in on the family whose company developed, unleashed, and pushed the drug on Americans, pulling in billions of dollars for themselves in the process….This is an important, necessary book." - Hillary Kelly, New York magazine

"A shocking saga… [a]tour-de-force account… [Keefe] brings to life the obsessive personalities and ferocious energy of some members…The Sacklers emerge as a shameless bunch, but Empire of Pain also poses troubling questions about the US healthcare system that permitted them to flourish." —John Gapper, The Financial Times

"Empire of Pain reads like a real-life thriller, a page-turner, a deeply shocking dissection of avarice and calculated callousness… It is the measure of great and fearless investigative writing that it achieves retribution where the law could not….Exhaustively researched and written with grace and gravity, Empire of Pain unpeels a most terrible American scandal. You feel almost guilty for enjoying it so much."  —The Times (London)

"Indefatigable investigative journalist Keefe crafts a page-turning corporate biography and jaw-dropping condemnation of the Sacklers' amoral disregard for anything save the acquisition of power, privilege, and influence. In Keefe's expert hands, the Sackler family saga becomes an enraging exposé of what happens when utter devotion to the accumulation of wealth is paired with an unscrupulous disregard for human health." — Carol Haggas, Booklist

"An engrossing and deeply reported book about the Sackler family, the owners of Purdue Pharma. Their company created Oxycontin, the opioid introduced in the mid-90s that sent a wave of addiction and death across the country. Unlike previous books on the epidemic, Empire of Pain is focused on the wildly rich, ambitious and cutthroat family that built its empire first on medical advertising and later on painkillers. In his hands, their story becomes a great American morality tale about unvarnished greed dressed in ostentatious philanthropy." —Time Magazine, The Best Books of 2021 So Far