The Good Life Method: Reasoning Through the Big Questions of Happiness, Faith, and Meaning (Paperback)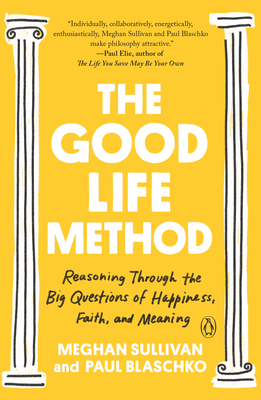 List Price: $18.00
Our Price: $17.00
(Save: $1.00 6%)
Description
---
A WINNING GUIDE TO TACKLING THE BIG QUESTIONS OF BEING HUMAN WITH THE WISDOM OF THE AGES

For seekers of all stripes, philosophy is timeless self-care. University of Notre Dame philosophy professors Meghan Sullivan and Paul Blaschko have shepherded thousands of students on the journey to faith and happiness in their blockbuster undergraduate course God and the Good Life.

Now they invite us into their classroom to wrestle with the big questions about how to live and what makes life meaningful. They distill guidance from Aristotle, Plato, Marcus Aurelius, Iris Murdoch, and W. E. B. Du Bois to work through issues like what justifies our beliefs, whether we should practice a religion, and what sacrifices we should make for others.

The Good Life Method applies the timeless wisdom of philosophy to real- world case studies that explore love, finance, truth, and more. In so doing, this book pushes us to escape our own caves, ask stronger questions, explain our deepest goals, and wrestle with suffering, the nature of death, and the existence of God.
About the Author
---
Meghan Sullivan is the Wilsey Family Col­lege Professor in Philosophy at the University of Notre Dame, director of the God and the Good Life Program, and director of the Notre Dame Institute for Advanced Study. She has published works in many leading philosophy journals. Her first book, Time Biases, was published by Oxford University Press. Her work has been supported by grants from the National Endowment for the Humanities, the Andrew W. Mellon Foundation, and the John Templeton Foundation. Sullivan has degrees from the University of Virginia, Oxford University, and Rutgers University, where she earned a PhD in philosophy. She studied at Balliol College, Oxford University, as a Rhodes Scholar.

Paul Blaschko is an assistant teaching professor in philosophy at the University of Notre Dame. He heads up curriculum design and digital pedagogy for the God and the Good Life Program, and has recently been working to develop similar curricula at universities across the nation as part of an initia­tive funded by the Andrew W. Mellon Foundation. Blaschko completed an MA in philosophy at the University of Wisconsin–Milwaukee, a PhD at the University of Notre Dame, and held the Andrew W. Mellon Postdoctoral Fellowship prior to being appointed to his current position.
Praise For…
---
"[A] wise and accessible guide . . . entertaining and insightful . . . Those pondering the perennial question of how to live a good life should start here." —Publishers Weekly (starred review)

"A warm, empathetic guide for examining the quality and meaning of one's own life . . . Thoughtful contemplations about thorny moral questions." —Kirkus

"At once revolutionary and conservative . . . revolutionary in its insistence that the results of philosophical reflection be put into practice . . . positively warm, oddly free of moralizing, welcoming of disagreement and engagement. By the end, you are ready to have a beer with the authors—and you feel they would welcome the opportunity . . . boldness in embracing controversy—enabled by the calm confidence of the authors, which supports their willingness to transparently and undogmatically engage—continues throughout, to excellent effect . . . 'Find[ing] a goal proportionate to life' (to life, not to our essential nature) is the animating project of the Good Life Method. Inviting and guiding the reader through a set of reflections—even spiritual exercises—aimed at that discovery is a very Good Thing." —Pamela Hieronymi, Los Angeles Review of Books

"For those looking for a self-help guide at the start of the new year, philosophy professors Sullivan and Blaschko recommend skipping diet books and pop psychology for Aristotle and Thomas Aquinas. Their book is based on a class they teach at the University of Notre Dame called God and the Good Life. The time-tested principles they set forth include living generously, working with integrity and accepting responsibility. Looking around, it's clear that those are all easier said than done, but the payoff promised in the book's title—the good life—is worth it." —Jim Kiest, The San Antonio Express News

"John Henry Newman remarked that 'a habit of mind is formed' through humanities-based thinking, 'of which the attributes are freedom, equitableness, calmness, moderation, and wisdom.' For Newman, this shapes the 'idea of a university.' As a professor at West Point, I'm particularly struck by how close those personal intellectual attributes are to the ideal of shared public discourse in the republic my students choose to defend. As a poet, though, I can't help but suspect that moral enquiry begins with a little of what Keats called 'negative capability'—the habit of 'being in uncertainties, mysteries, doubts.' We all are. How do I live in my own home with my family and neighbors as the person I want to be? How do I be or become the person my children believe that I am? The Good Life Method isn't a script or prescription. It's a book about strong questions and how to face them, how to live with and through them. It's about setting conditions—both personally and in our communities—for our most enduring habits of mind in our everyday lives." —Matthew Salyer, Associate Professor of English, United States Military Academy, West Point

"'Make religion attractive,' Pascal remarked, cryptically, in the Pensées. That remark came to mind again and again as I read The Good Life Method; individually, collaboratively, energetically, enthusiastically, Meghan Sullivan and Paul Blaschko make philosophy attractive." —Paul Elie, author of The Life You Save May Be Your Own

"The Good Life Method is a compulsively readable book. I found myself squirming in places but pushing forward, reflecting on how much all of us stand to gain from trying to ask and answer the questions that Sullivan and Blaschko pose. They offer a method more than a manual, one that lends itself not only to conversations among families, friends, colleagues, leaders and voters, but also invites thoughts of a grand national experiment." —Anne-Marie Slaughter, CEO, New America

"I know of no question more worthy of our time and attention than, 'What is a good human life, and how do I live it?' Meghan Sullivan and Paul Blaschko have crafted a fascinating class, 'God and the Good Life,' which has engaged and inspired our students at Notre Dame about that question. They now offer observations and insights from that course to readers of this book." —Rev. John I. Jenkins, C.S.C, President of University of Notre Dame

"In writing about The Good Life Method, Sullivan and Blaschko have provided a flexible yet focused approach to help us all ask—and answer—life's most important questions. They weave together timeless truths from great thinkers with contemporary research on college student wellbeing and their own lived experience as scholars, teachers and mentors to provide a practical approach to making meaning in a world of choices and challenges." —Penny Rue, PhD, Vice President for Campus Life, Wake Forest University