How Quickly She Disappears (Paperback)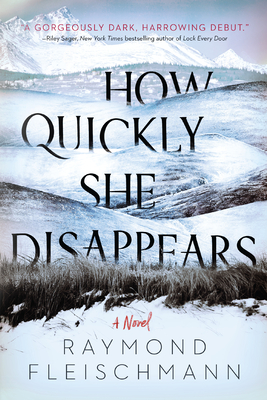 $16.00

NOT on our shelves now. Usually ships from warehouse in several days.
Great Reads
---
"How Quickly She Disappears is a Thriller with a capital T!! Set in Alaska with flashbacks to a childhood in Pennsylvania, the story follows Elisabeth, who is still haunted by and feeling partially responsible for the disappearance of her twin sister, Jacqueline, when they were 11. It's been 20 years, but when a stranger, Alfred, shows up claiming to have proof Jacqueline is still alive, Elisabeth sets out to assuage her guilty conscience. Alfred is demanding. Alfred demands frightening things of her. And as he teases her with more and more information, the stakes and demands escalate. How far will she go? Author Raymond Fleischmann will put you to the test. Your heart will race. Your breathing will become shallow. The pages will fly. This thriller is unlike any you've ever read!"
— Nancy Simpson-Brice, Book Vault, Oskaloosa, IA
Description
---
As seen in PEOPLE • Entertainment Weekly • New York Post Best Book of the Week

"A novel paced like a thriller but written with the aching grace of literary fiction. A gorgeously dark, harrowing debut."—Riley Sager, New York Times bestselling author of Lock Every Door

The Dry meets The Silence of the Lambs in this intoxicating tale of literary suspense, set in the relentless Alaskan landscape, about madness and obsession, loneliness and grief, and the ferocious bonds of family....

It's been twenty years since Elisabeth's twin sister, Jacqueline, disappeared without a trace. Now thirty-year-old Elisabeth is living far from home in a small Alaskan town. She's in a loveless marriage and has a precocious young daughter she loves more than anything but who reminds her too much of her long-missing sister.

But then Alfred, a dangerous stranger with a plan of his own, arrives in town and commits an inexplicable act of violence. And he offers a startling revelation: He knows exactly what happened to Elisabeth's sister, but he'll reveal this truth only if she fulfills his three requests.

Increasingly isolated from her neighbors and imprisoned by the bitter cold and her own obsession, Elisabeth can almost hear her sister's voice saying, Come and find me. And so she will, even if it means putting herself—and her family—in danger.
About the Author
---
Raymond Fleischmann received his MFA from Ohio State University, and he's earned scholarships and fellowships from Richard Hugo House, the Sewanee Writers' Conference, and others. He lives in Indiana with his wife and three daughters. How Quickly She Disappears is his first novel.
Praise For…
---
An IndieNext and Library Reads Pick!

"Icy intrigue...juicy plot."—Entertainment Weekly

"Loaded with unexpected turns and the musical prose of a literary novelist at the top of his game."—Associated Press

"[A] brooding, suspenseful debut novel….part dark fairy tale and part astute character study of a woman."—The Columbus Dispatch

"A twisted thriller that will keep you guessing, this is a shocker of a story."—Parkersburg News & Sentinel

"Raymond Fleischmann has blessed us with the rarest of gifts, a novel paced like a thriller but written with the aching grace of literary fiction. A gorgeously dark, harrowing debut."—Riley Sager, New York Times bestselling author of Lock Every Door

"Fleischmann has written a riveting and addictive debut. This novel disturbed me and terrified me, and yet I could not turn the pages fast enough. The writing is flawless, the story haunting, and one that will stay with me for a very long time."—national bestselling author Diane Les Becquets

"Raymond Fleischmann is going to be one of the buzz names for the new year...A beautiful blend of high tension and literary elegance, both deeply moving and immediately engaging."—Michael Koryta, New York Times bestselling author of How It Happened 
 
"An author to watch on the literary-thriller scene."—Booklist, starred review

"Debut thriller with a strong sense of place will appeal to fans of Jane Harper's The Dry, and those who wished Kristin Hannah's The Great Alone was a psychological thriller."—Library Journal

"A compelling exploration of the power of unresolved grief and unanswered questions."—BookPage 

"A masterful psychological thriller that, like the best of the genre, rests squarely on richly developed characters with complicated, sometimes malignant, motivations."—Heather Young, author of the Edgar Award finalist The Lost Girls
 
"An utterly absorbing period saga—an epic stranger-comes-to-town mystery that reads as intimate as gossip…A graceful, daring, deathless story."—Claire Vaye Watkins, author of Gold Fame Citrus
 
"Raymond Fleischmann has crafted a novel of the highest suspense…you'll mourn how quickly the pages go by."—Lee Martin, author of the Pulitzer Prize Finalist The Bright Forever
 
"Enthralls from the first page to the last. It's both a gripping, cinematic mystery and a powerful exploration of the way that loss and longing tip into obsession."—Lydia Fitzpatrick, author of Lights All Night Long
 
"A novel of exquisite suspense—exhilarating as a winter storm, with glittering prose and characters both haunted and haunting. I whirled through this book, and the final chapters left me breathless."—Miciah Bay Gault, author of Goodnight Stranger