The Many Lives of Pusheen the Cat (I Am Pusheen ) (Paperback)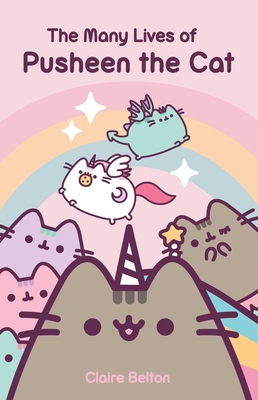 Description
---
A delightful new collection of comics from Pusheen in all of her adorable forms—from the classic gray tabby you know and love, to her unicorn, dragon, alien, mermaid, dinosaur, and even dog alter egos—Pusheen always lives life to the fullest!

We all know Pusheen, the pleasantly plump cat who has warmed hearts and tickled funny bones of millions worldwide with her signature animated bops, bounces, and tail wiggles. Now you can learn what makes her purr and find out why so many have already fallen in love with her. This delightful collection of comics and illustrations features some of the most popular and purr-fectly adorable Pusheen comics you know and love, plus a healthy serving of never-before-seen material. The Many Lives of Pusheen the Cat is a treat for cat lovers and comics fans alike.
About the Author
---
Claire Belton is an artist and entrepreneur based in Chicago. She spends her time petting cats, drawing cats, and pursuing cat-related endeavors.
Praise For…
---
PRAISE FOR PUSHEEN

"Much like an actual cat, this book manages to be funny, weird, and lovably adorable all at the same time. You will love Pusheen and you will love this book."
— Matt Inman, founder of TheOatmeal.com and author of How to Tell if Your Cat is Plotting to Kill You

"Pusheen is what everyone else wishes they had come up with after the internet was invented. It is also possibly the reason the internet was invented in the first place. Now that it's a book, I fully expect it to resurrect the print industry as a whole."
— Kate Beaton, author of Hark! A Vagrant

"Pusheen is easily the most charming of all internet cats!"
— Anthony Clark, www.Nedroid.com

"I thought I was tired of cat gifs until I discovered Pusheen."
— Jeph Jacques, www.QuestionableContent.net

"Pusheen is a little bouncy marshmallow of a cat who perfectly combines absolute cuteness and absolute trouble, which is, as all cat lovers know, why we love them."
— Jess Fink, author of We Can Fix It

"When it comes to famous Internet cats, Pusheen rules the litter box. The cute plump feline is Tumblr's premier kitty. With clean and simple shapes, Claire Belton's cartoon is a mix of Hello Kitty's cuteness and Felix the Cat's adventurous spirit."
— Fernando Alfonso III, reporter at the Daily Dot

"Pusheen teaches us how to LIVE: Nap as hard as you party. Seek out the small joys in life, and eat them. Eat everything. And keep moving."
— Will Zweigart, creator of Cashcats.biz and Sketchy Santas

"Pusheen is the most adorable, squishy little nugget of felinity that has ever graced the fair pages of my Internet browser. I want to eat her, like a tiny grey cute-flavoured marshmallow."
— Gemma Correll, www.GemmaCorrell.com

"Claire Belton has made Pusheen one of the world's great characters. The talent and imagination [here] could power enough love to save the world. If Pusheen doesn't capture your heart, I will personally refund your money."
— Fred Seibert, Frederator Studios

"This was too freakin' cute. … How can you resist?"
— The Armchair Librarian

"It's hard work being a kitty, and we get to learn all about it in Clare Belton's I Am Pusheen the Cat. … great for any cat-lover."
— Geek Lit Etc.

"I Am Pusheen the Cat is an adorable collection of short comics that are based on a series of internet memes that have become wickedly popular (and for good reason!). If it were possible to die of maximum cuteness and hilarity, I probably would've done so over this brief read."
— Writing Through Rose-Colored Glasses blog