The Deadline Effect: Inside Elite Organizations That Have Mastered the Ticking Clock (Paperback)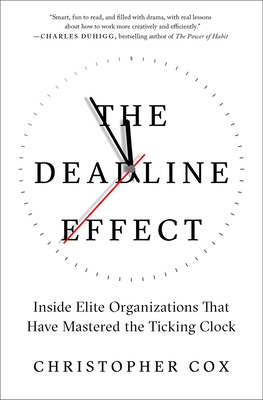 Description
---
In the tradition of Charles Duhigg's The Power of Habit, a wise and fascinating book that shows us how "we can make deadlines work for us instead of the other way around" (The Wall Street Journal).

Perfectionists and procrastinators alike agree—it's natural to dread a deadline. Whether you are completing a masterpiece or just checking off an overwhelming to-do list, the ticking clock signals despair. Christopher Cox knows the panic of the looming deadline all too well—as a magazine editor, he has spent years overseeing writers and journalists who couldn't meet a deadline to save their lives. After putting in a few too many late nights in the newsroom, he became determined to learn the secret of managing deadlines. He set off to observe nine different organizations as they approached a high-pressure deadline. Along the way, Cox made an even greater discovery: these experts didn't just meet their big deadlines—they became more focused, productive, and creative in the process.

An entertaining blend of "behavioral science, psychological theory, and academic studies with compelling storytelling and descriptive case studies" (Financial Times), The Deadline Effect reveals the time-management strategies these teams used to guarantee success while staying on schedule: a restaurant opening for the first time, a ski resort covering an entire mountain in snow, a farm growing enough lilies in time for Easter, and more. Cox explains how to use deadlines to our advantage, the dynamics of teams and customers, and techniques for using deadlines to make better, more effective decisions.
About the Author
---
Christopher Cox has written about politics, business, books, and science for The New York Times Magazine, GQ, Harper's, Wired, and Slate. In 2020, he was named a Knight Science Journalism Fellow at MIT and a visiting scholar at NYU's Arthur L. Carter Journalism Institute. He was formerly the chief editor of Harper's Magazine and executive editor of GQ, where he worked on stories that won the Pulitzer Prize, the PEN Literary Award for Journalism, and multiple National Magazine Awards. Cox was raised in Atlanta, Georgia, and went to college at Harvard University and graduate school at the University of Cambridge. He lives in Brooklyn with his wife, Georgia, and their two daughters, Carson and Alice.
Praise For…
---
"The good news . . . is that we can make deadlines work for us instead of the other way around. Mr. Cox has a wry touch . . . and a good eye for detail." —Wall Street Journal

"When you have a healthy relationship with crunch time, the book argues, you can do great work and enjoy vacation to the fullest." —GQ

"The Deadline Effect is an amazing read—it really hits home since on CNBC I'm constantly on deadline. Fascinating stories and practical takeaways!" —Julia Boorstin, Senior Media and Entertainment Reporter, CNBC

"Cox intertwines behavioral science, psychological theory, and academic studies with compelling storytelling and descriptive case studies." —Financial Times

"The Deadline Effect is more than just a book about being more effective: it's a fascinating amalgamation of productivity tips and deep dives into the lives of people meeting extraordinary deadlines. . . . Journalist Christopher Cox does an excellent job finding real-life examples of the importance of deadlines. . . . Fast-paced and informative, The Deadline Effect will teach readers how to use deadlines to their own advantage. . . . Full of pointers on how to be more motivated and productive and written in an approachable, pithy way, The Deadline Effect is sure to fascinate readers." —Shelf Awareness

"Cox is a seasoned dispenser of constraints and expectations, and, in turn, a coaxer and a cajoler of those who must meet them . . . He wants to demystify deadlines in order to defang them, to assure us that if we just tilt our heads we can see our demons as our friends." —Rachel Syme, The New Yorker

"Fascinating . . . Cox's profiles are full of insight and the observational flare of excellent magazine writing. . . . This entertaining guide to the art of getting things done gets it done with style." —Publishers Weekly

"The Deadline Effect is filled with case studies that are smart, fun to read, and filled with drama. And most important, there are real lessons here: about how to work more creatively and efficiently, and how the ticking clock of a deadline often pushes us to do our best work." —Charles Duhigg, bestselling author of The Power of Habit and Smarter Faster Better

"Christopher Cox is highly lucid and a quick learner, who also happens to be skilled at explaining big ideas through stories. The examples are wildly various and creative, and each features high stakes: will the Easter lilies be ready to ship on time? Will the new restaurant open on schedule? Will the box store be prepared for the crush of Black Friday? A wry and literate how-to, a counterphobic look at the deadlines we fear yet couldn't live without." —Ted Conover, Professor and Director, Arthur L. Carter Journalism Institute of NYU

"In the eternal battle between human beings and the clock, Christopher Cox's The Deadline Effect offers a compulsively readable truce. In these seven vivid profiles of organizations under extreme stress, The Deadline Effect addresses a common conundrum with unusual insight. They say if you want something done, give it to the busiest person in the office but if you want to know how it gets done, give it to Christopher Cox." —Sloane Crosley, author of Look Alive Out There

"Almost every page has the kind of information on it where you call out to whoever's in the room and say, 'Oh my god, did you know this?' It's full of easter eggs of anecdote and joy, on top of being a wonderful piece of thinking." —Rivka Galchen, author of Atmospheric Disturbances and Everyone Knows Your Mother Is a Witch

"In The Deadline Effect, writer and magazine editor Christopher Cox has set out to better understand the way we respond to deadlines, how they can at once be stressful and clarifying experiences, and if there's a way to trick ourselves into the latter without any of the former." —LitHub, "Nonfiction Books You Should Read This Summer"