Bumpin': The Modern Guide to Pregnancy: Navigating the Wild, Weird, and Wonderful Journey From Conception Through Birth and Beyond (Paperback)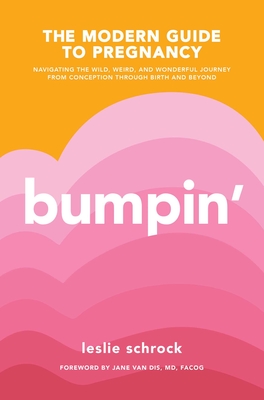 $16.99
ON HAND in at least ONE of our stores. Click through or call for up-to-the-minute availability.
Description
---
Tech investor and new mom Leslie Schrock offers a thoroughly modern guide to pregnancy—from the preparations of "trimester zero" to the challenges of the newborn months.

In the last thirty years, the process of starting a family has drastically changed. Not only are there many more options for getting pregnant, but there are a dizzying array of variables from start to finish. Genetic test or no genetic test? Midwife or OB-GYN? Stroller or Baby Bjorn?

Yet all this choice can also create anxiety, especially around the most difficult realities. Miscarriages and fertility issues are common, yet often concealed. One in nine mothers report dealing with postpartum depression, but it is rarely acknowledged and even more rarely treated. Celebrities post "snap-back" photos of their slim post-baby bodies, creating unrealistic expectations for women everywhere. We have more information than ever, yet nearly every aspect of motherhood is still shrouded in judgment and mystery .

Enter Leslie Schrock, first-time mother whose own struggles opened her eyes to this widespread problem. With the frank, funny warmth of a trusted friend, she delves into everything from in vitro fertilization and prenatal testing to lactation consultants and postpartum birth control. She debunks the most pervasive pregnancy myths, explores the complementary practices, and cites the latest science (with a dash of been-there-done-that experience) to help you make the best decisions every step of the way—for both you and your baby.

So tune out all of the noise you don't need, and take control of your pregnancy—present or future.
About the Author
---
Leslie Schrock is an investor and entrepreneur with a decade of experience working at the intersection of health and technology. She helped grow Rock Health, a startup accelerator and venture fund, from an idea to a globally-known firm with over 100 portfolio companies and more than one billion dollars in funding. When she's not writing, Leslie spends her time with startups improving the way we live. Leslie was named one of Fast Company's Most Creative People in Business, and her work has been featured in publications including NPR, Time, GQ, Entrepreneur, Wired, and The New York Times. She lives in San Francisco with her husband and son. Connect with Leslie at LeslieSchrock.com.