Wallet Activism: How to Use Every Dollar You Spend, Earn, and Save as a Force for Change (Paperback)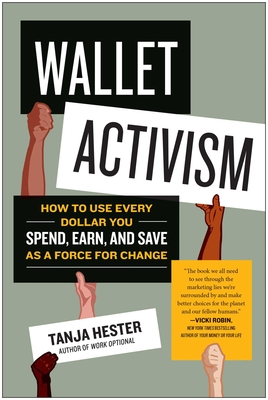 $17.95

Coming Soon. Pre-Order Now!
Description
---
How do we vote with our dollars, not just to make ourselves feel good, but to make a real difference?

Wallet Activism challenges you to rethink your financial power so can feel confident spending, earning, and saving money in ways that align with your values.

While we call the American system a democracy, capitalism is the far more powerful force in our lives. The greatest power we have—especially when political leaders won't move quickly enough—is how we use our money: where we shop, what we buy, where we live, what institutions we entrust with our money, who we work for, and where we donate determines the trajectory of our society and our planet. While our votes and voices are essential, too, Wallet Activism helps you use your money for real impact.

It can feel overwhelming to determine "the right way" to spend: a choice that might seem beneficial to the environment may have unintended consequences that hurt people. And marketers are constantly lying to you, making it hard to know what choice is best. Wallet Activism empowers us to vote with our wallets by making sense of all the information coming at us, and teaching us to cultivate a more holistic mindset that considers the complex, interrelated ecosystems of people and the planet together, not as opposing forces.

From Tanja Hester, Our Next Life blogger and author of Work Optional, comes the mindset-shifting guide to help you put your money where your values are. Wallet Activism is not a list of dos and don'ts that will soon become outdated, nor does it call for anti-consumerist perfection.

Instead, it goes beyond simple purchasing decisions to explore:
• The impacts a financial decision can have across society and the environment
• How to create a personal spending philosophy based on your values
• Practical questions to quickly assess the "goodness" of a product or an entity you may buy from
• The ethics of earning money, choosing what foods to eat, employing others, investing responsibly, choosing where to live, and giving money away

For anyone interested in leaving the world better than you found it, Wallet Activism helps you build habits that will make your money matter.
About the Author
---
Tanja Hester retired early from a career in political and social change communications, and journalism before that, to devote all her time to purpose-driven projects. Called the "matriarch of the FIRE (financial independence/retire early) movement" by The New York Times and a "female financial influencer you should be following" by US News, Tanja has used her leadership position within the personal finance media community to push for more social and environmental awareness, more diversity and inclusion, and more philanthropy, not simply wealth accumulation. She draws on her journalism background to research how best to incorporate values into financial decisions.

Tanja is the author of the award-winning book Work Optional: Retire Early the Non-Penny-Pinching Way, called "the best step-by-step guide to retire early" by MarketWatch, she writes the award-winning blog Our Next Life, and she cohosts The Fairer Cents, an economics podcast about women and financial inequality. She is a columnist for MarketWatch, and has spoken at Google, Tesla, and conferences around the world.