Beyond Conversations about Race: A Guide for Discussions with Students, Teachers, and Communities (How to Talk about Racism in Schools and Implement E (Paperback)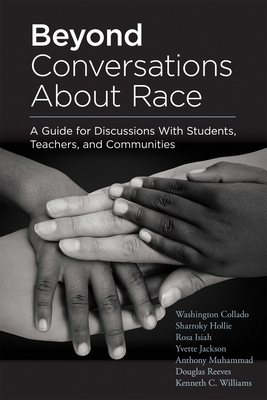 $26.95

NOT on our shelves now. Usually ships from warehouse in several days.
Description
---
Written by a collective of brilliant authors, this essential work provokes respectful dialogue about race that catalyzes school-changing action. The book masterfully weaves together an array of scenarios and discussions, and directly addresses challenging topics such as discomfort, violence, advocacy, bias, and responsibility. The authors call on their lived experiences and, most important, their work with tens of thousands of educators, leaders, and students to help all of us do better in our schools and communities.
Learn how to talk about race in the classroom and advocate for racial equity in schools:
Recognize the presence of systemic racism in schools and understand why racism is such an uncomfortable topic for many.
Use scenarios and effective discussion questions to encourage challenging conversations.
Learn how to advocate for underserved communities and those who suffer under racism.
Resist racial stereotypes and promote equity in the classroom.
Take appropriate action based on challenging conversations.
Ultimately develop classrooms, schools, and districts into safe, anti-racist educational strongholds and promote positive learning experiences for marginalized students.
Contents:
Acknowledgments
Table of Contents
About the Authors
Introduction: How to Get the Most out of This Book
Part 1: Getting Ready for Challenging Conversations
Chapter 1: Why Is Talking About Race So Hard?
Chapter 2: Why Is Discomfort Required?
Chapter 3: Why Scenarios as an Educational Tool?
Chapter 4: How Can We Create a Safe Space for Conversation?
Chapter 5: How Will Faculty and Staff Set the Standard for Challenging Conversations?
Part 2: Using Scenarios for Important Conversations
Chapter 6: Talking About Bias--How Can I Be Biased When I'm Not a Racist?
Chapter 7: Talking About History--How Does the Shadow of 1619 Affect Us Today?
Chapter 8: How Can Something Be My Responsibility When It's Not My Fault?
Chapter 9: Talking About Advocacy--What Is My Duty to My Friends?
Chapter 10: Talking About Law Enforcement--How Do Police Officers Help Us? How Do They
Sometimes Hurt Us?
Chapter 11: Talking About School--Where Are the Black People?
Chapter 12: Talking About Violence--How Can We Talk About Terrible Things?
Part 3: Moving From Discussion to Action
Chapter 13: How Do We Engage Our Communities?
Chapter 14: How Can We Advocate for Change?
Chapter 15: Facing Disappointment and Loss--Why Isn't Being Right Enough?
Chapter 16: How Do We Create Equity Consciousness?
Chapter 17: The Next Chapter--How Do We Shift From Opposing Bigotry to Practicing Anti-Racism?
References and Resources
Index.