Mediterranean Diet Greek Cookbook: The Best Greek Recipes for Beginners, Quick and Easy for Eating Healthy at Home (Paperback)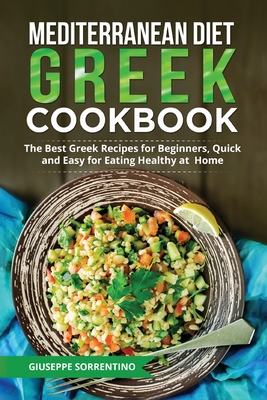 $29.95
Temporarily Unavailable
Description
---
Bring the Authentic Flavors of the Mediterranean, Transform Your Health the Greek Way and Discover How to Live the Good Life with This Collection of Drool-Worthy Recipes
Are you looking for healthy, fat-blasting recipes that don't taste like styrofoam and make you miserable? Are you out of meal ideas and are looking for creative ways to shake up your diet and give your meals a touch of the exotic Mediterranean?
If your answer is yes to any of the questions above, then this cookbook is perfect for you
Your Customers will Find this Cookbook very Useful and will Continue to use it
In this special cookbook, Giuseppe Sorrentino gives you a taste of Greek culture without having to physically visit the Mediterranean or pay for expensive restaurant meals. From stocking up your pantry to beginner-friendly preparation instructions, this cookbook has everything you need to make Greek-inspired feasts that your family and guests won't forget in a hurry
The Mediterranean Diet Greek Cookbook includes the following helpful features you're going to love:
● Easy-to-source ingredients: All the recipes in this cookbook can be made with ingredients that can be found at your favorite farmer's market or grocery store without stress
● Tons of amazing Greek recipes: You'll discover how easy it is to whip up sumptuous Greek dishes in your kitchen that your friends, family, and guests will absolutely love and ask for second helpings
● Step-by-step cooking instructions: Take the guesswork out of preparing Greek feasts with detailed, confusion-free preparation directions that are easy to follow and replicate, no matter your culinary skills
● Essential nutritional information: Stay on top of your calorie intake as well as monitor your micro and macronutrients with a complete nutritional profile for each recipe
● ...and more
Designed for culinary adventurous and health-conscious foodies, the Mediterranean Diet Greek Cookbook takes away the pain of eating for weight management and brings back the pleasure of healthy eating with glorious and mouthwatering recipes that will please even the pickiest eater.
Buy it NOW Your Customers will be Satisfied to use this Amazing Cookbook