Keto Desserts Cookbook: Best Low Carb, High-Fat Treats that'll Satisfy Your Sweet Tooth, Boost Energy And Reverse Disease (Paperback)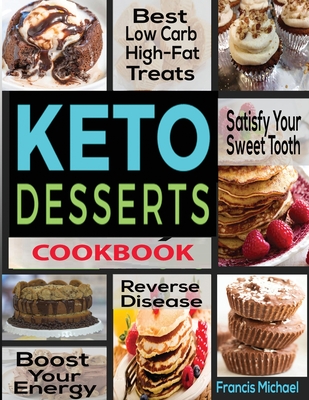 $20.24
NOT on our shelves now. Usually ships from warehouse in several days.
Description
---
Enjoy Easy And Delicious Sugar-free Keto Desserts that'll Satisfy Your Sweet Tooth.
Let us introduce you to our collection of keto desserts - we offer simple recipes that are high in deliciousness and low in carbs. Any meal plan where keto dessert is involved is a breath of fresh air. This Cookbook has all the sweet flavor with less carbs. The collection of keto desserts in this book will satisfy your cravings with healthy fats and low-carb sweeteners. In the book, you'll find:
Keto Desserts BasicsBenefits of Keto DessertsCake RecipesCookies RecipesBar RecipesPies RecipesTarts RecipesFrozen Dessert RecipesMousse and Custard RecipesCandy and Confection RecipesAnd many more
You can find everything from fudgy keto brownies to decadent sugar-free ice cream to special occasion layer cakes. Make these keto desserts when you miss high-carb comfort foods. Cake, cookies, pies, ice cream, and donuts aren't off limits anymore - you can still enjoy all these mouthwatering flavors and textures without throwing your diet off the rails.Dessert lovers, rejoice Yes, on a healthy ketogenic diet, you can have your cake and eat it, too. Easy Keto Desserts includes more than over 100+ easy-to-make recipes along with nutrition facts, detailed instructions, and helpful tips for near possible results.
To get this book, Scroll Up Now and Click on the "Buy now with 1-Click" Button to Download your Copy Right Away Grab Your Copy Now