The Worst Enemy (Rebels Along the Rio Grande #2) (Paperback)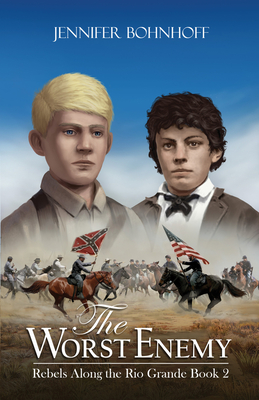 $12.95

Coming Soon. Pre-Order Now!
Description
---
Civil War action and drama for young readers that will appeal to young readers, parents, and teachers.

Two boys. One battle. A life-changing encounter. Jemmy Martin left his Texas farm and followed Confederate General Sibley's Army into New Mexico to keep his mules safe. Now he's protecting Willie, an orphaned drummer boy with a broken arm. Cian Lochlann is an Irish orphan who gave up gold prospecting to join the Union Army. All he wants is a full belly and a strong man to lead him into an unknown future. The three meet when the Confederate and Union Armies clash in the mountains east of Santa Fe in the Battle of Glorieta. Can Cian devise a plan that keeps all three boys alive?
About the Author
---
A lifelong New Mexican, Jennifer Bohnhoff loves travel and history. She taught Middle School Language Arts and New Mexico History. She loves helping people reach that "ah ha" moment when they suddenly understand the connections between themselves, the past, eternity, and the world around them. Jennifer is the mother of three handsome men, the mother-in-law of three beautiful daughters, and the grandmother of three very smart granddaughters and one grandson. She lives in the mountains of central New Mexico with her husband, dog, and cat.
Praise For…
---
"Jennifer Bohnhoff's When Duty Calls takes a moment from New Mexico's involvement in the Civil War and makes it flesh-and-blood real. The dual storylines will keep readers engaged and hoping Jemmy and Raul will eventually meet. A great fit for the classroom and beyond." —Caroline Starr Rose, author of May B. and Miraculous (about book 1 in the series Where Duty Calls)
 

"Jennifer Bohnhoff writes historical fiction that grabs readers with the action and characters so they enjoy learning the history." —Chris Eboch, author of The Well of Sacrifice (about book 1 in the series Where Duty Calls)