Intermediate Guide to Japanese Joinery: The Secret to Making Complex Japanese Joints and Furniture Using Affordable Tools (Paperback)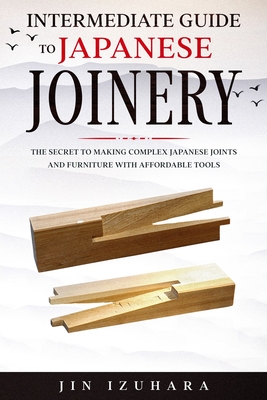 $19.99

NOT on our shelves now. Usually ships from warehouse in several days.
Description
---
Are you a weekend hobby carpenter with a passion for creating high-quality pieces, but not quite the equipment budget to match?
Would you like to know how to create Japanese joints using common tools?
Japanese joinery is an ancient carpentry skill developed in a time before mass production when ingenuity and character of design still mattered. Now, you can revive this ancient art and introduce it to your own carpentry designs.
Whether you are making a living off your carpentry, or simply performing a labor of love in your garage on weekends, there is nothing holding you back from using the Intermediate Guide to Japanese Joinery to introduce this art to your wood designs.
The tools used are likely sitting in your toolbox right now, and if they aren't, they are definitely affordable for everyone.
Japanese joinery is not just about trying something new in your designs. The skill actually improves the design of ordinary objects with special characteristics that are not found in any other method of joining. These include earthquake-proofing furniture as well as improved sound conduction for studios or recording booths.
If you have been wanting to take your carpentry to the next level, Japanese joinery is the way to do exactly that. All you need is this helpful guide and your existing tools to get started right away.
The Intermediate Guide to Japanese Joinery provides some joining methods that don't even use any nails The opportunities to use that skill and incorporate these unique joints into your own designs are endless.
Japanese joinery has been used for hundreds of years to build structures that stand the test of time as well as almost everything that Mother Nature can throw at them.
Inside the
Intermediate Guide to Japanese Joinery
, you will discover:
Eight traditional Japanese joints and projects along with the specifications required to build them
How to select the correct types of wood for these joints as well as the reasons these wood types are ideal
The top tools required to fashion Japanese joints and their usefulness in recording studios and earthquake-prone areas
The innovation behind metal-free joints that are necessary for areas where high-powered magnets exist including nuclear medicine or particle physics labs
The specialized characteristics behind Japanese joinery and why, in certain cases, no other type of joint will do
And so much more helpful and practical advice
Easy-to-understand black and white illustrations will bring instructions to life and ensure that you always know exactly what you should be doing.
Japanese joinery is the most affordable and easiest way to level-up your carpentry work and start producing unique pieces that are stronger and more beautiful than ever before. There is a reason that Japanese carpentry is one of the most revered in the world, and you are about to find out why.
Don't delay learning this ancient craft and get started on your Japanese joinery journey by adding this book to your cart now