Parenting 4 Social Justice: Tips, Tools, and Inspiration for Conversations & Action with Kids (Paperback)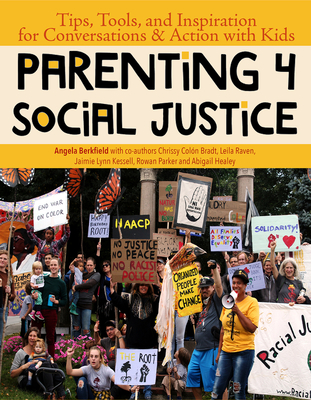 $21.95

NOT on our shelves now. Usually ships from warehouse in several days.
Description
---
In 2015, social justice educator and activist Angela Berkfield held her first Parenting for Social Justice workshop. Now it is time to share those tools and inspiration. This book discusses race, class, gender, disability, healing justice, and collective liberation, initiating age-appropriate and engaging conversations with kids about social justice issues. Included are ideas for taking action as families, from making protest signs and attending a local march, to trying healing meditations and consciously connecting with people from different backgrounds. Resources for further learning and activities that readers can engage in on their own or as part of a group.
About the Author
---
Author Angela Berkfield, a social justice educator and activist, is a parent of 10- and 7-year-old boys who have privilege because of race, class, gender, and ability. In her words, "I have a tall task in raising kids who have privilege to move through the world honoring principles of equity and justice. I've aimed to center social justice in my parenting from day one - and the more caregivers I can partner with on this journey, the better!" Angela has taught in a variety of settings over the past decade and is a co-founder of the Root Social Justice Center, ACT for Social Justice, and Equity Solutions. She has an MA in Social Justice from the School for International Training.
Chrissy Colón Bradt is an educator and mom to a 4 year old, biracial, white-presenting child.  As an Afro-Latina in a biracial marriage, Chrissy is keenly aware of her family's intersecting identities and privilege. She strives to support her son in developing a positive racial and ethnic identity. Chrissy serves as an educator and Director of Equity and Inclusion  at an independent school, and is on the board of The Courage of Care Coalition and the Root Social Justice Center. She holds a BA in Comparative Ethnic Studies from Barnard College and an M.Ed. in Special Education from Hunter College.
Rowan Parker has worked in early childhood education and early childhood development for over a decade. He is white and transgender; he has bipolar disorder and a chronic pain condition. Rowan currently works in Early Intervention as a Developmental Specialist, assessing young children for therapeutic needs, but his favorite part of the job is helping parents learn to understand and work with their children. He continues his work with children as a foster parent with his partner. Rowan has a Master's in Education from Western Governors University.