Tolstoy Killed Anna Karenina (Paperback)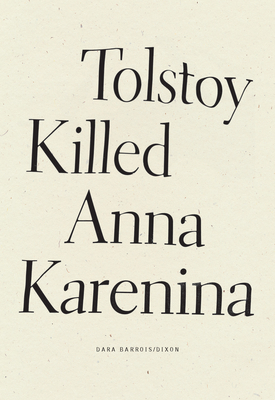 Description
---
With the same tender honesty found in all of Dara Barrois/Dixon's (formerly Dara Wier) poetry, the poems in TOLSTOY KILLED ANNA KARENINA are curious about the world we inhabit and the worlds we create. Barrois/Dixon brings profound attention to the things we love--be they animals, books, skyscapes, movies, poems, or other human beings--and to the stories that shape our worlds. Here, with emotional exactitude, is a collection of poems that is unafraid to express "love humor despair loving kindness love humor empathy/humor joy sympathy love kindness courage."
Poetry. Women's Studies.
About the Author
---
Dara Barrois/Dixon (formerly Dara Wier) is the author of numerous collections of poetry, including In the Still of the Night (Wave Books, 2017), You Good Thing (Wave Books, 2013), Selected Poems (Wave Books, 2009), among others. She teaches workshops and form and theory seminars at the University of Massachusetts Amherst and co-directs the University of Massachusetts' Juniper Initiative for Literary Arts and Action. She lives in Amherst, Massachusetts.