2020 Erisa Facts (Paperback)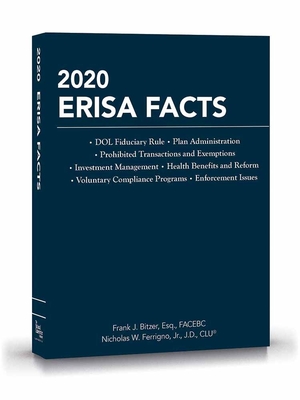 $479.00
Temporarily Unavailable
Description
---
Employee Retirement Income Security Act (ERISA) is known as one of the most complicated federal laws, but it is one of the most important laws regarding employee benefits. 2020 ERISA Facts provides simple explanations for nearly 900 of the most common ERISA-related questions.
Anyone involved in the administration of ERISA-based retirement plans will benefit from this book; it's the perfect resource for a wide range of employee benefits professionals, including ERISA attorneys, TPAs, CPAs, employee benefits consultants or specialists, corporate counsel, IFEBP members, and more.
Organized in a convenient Q&A format to help you find the information you need, ERISA Facts delivers the latest guidance on:
Fiduciary responsibilities under ERISA
ERISA-regulated plan administration issues
Health insurance issues (HIPAA, COBRA, etc.)
Responsibilities related to plan investments and fiduciary liability
Compliance and disclosure rules
Expanded coverage of prohibited transactions and exemptions
Detailed explanations of voluntary compliance programs
Real-world advice on enforcement trends
New in the 2020 Edition:
Updated penalty amounts for noncompliance issues
Explanation of new rules governing Multi-employer Pensions plans (MEPs)
Coverage of new litigation on summary plan document (SPD) contents
Expanded coverage of enforcement trends regarding monetary penalties for violations of HIPAA and the HITECH Act via HHS
New litigation and rules regarding GINA-complaint wellness plans
Detailed explanation of new PBGC rules on terminated and insolvent multiemployer plans
Topics Covered:
Establishment and Administration
Health Benefit Issues
Fiduciary Duties and Liability Issues
Prohibited Transactions
Statutory, Class, and Individual Exemptions
Fidelity Bonding, Fiduciary Liability Insurance, and Exculpatory Provisions
Taft-Hartley Plans (Multiemployer Plans)
And More See the "Table of Contents" section for a full list of topics
Additionally, the book includes complete information on disclosure requirements from the Employee Benefits Security Administration, IRS, Health and Human Services, and citations to key court cases and legislation. Department of Labor guidance on disclosure requirements is also provided.