Breath from Salt: A Deadly Genetic Disease, a New Era in Science, and the Patients and Families Who Changed Medicine Forever (Hardcover)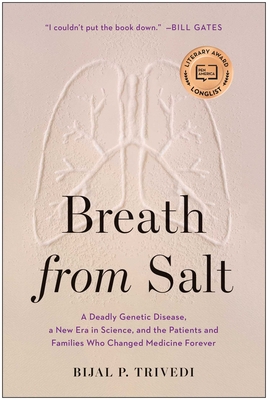 $28.95
Temporarily Unavailable
Description
---
Recommended by Bill Gates and included in GatesNotes

"Elaborating on the science as well as the business behind the fight against cystic fibrosis, Trivedi captures the emotions of the families, doctors, and scientists involved in the clinical trials and their 'weeping with joy' as new drugs are approved, and shows how cystic fibrosis, once a 'death sentence,' became, for many, a manageable condition. This is a rewarding and challenging work."

—Publishers Weekly


Cystic fibrosis was once a mysterious disease that killed infants and children. Now it could be the key to healing millions with genetic diseases of every type—from Alzheimer's and Parkinson's to diabetes and sickle cell anemia.

In 1974, Joey O'Donnell was born with strange symptoms. His insatiable appetite, incessant vomiting, and a relentless cough—which shook his tiny, fragile body and made it difficult to draw breath—confounded doctors and caused his parents agonizing, sleepless nights. After six sickly months, his salty skin provided the critical clue: he was one of thousands of Americans with cystic fibrosis, an inherited lung disorder that would most likely kill him before his first birthday.

The gene and mutation responsible for CF were found in 1989—discoveries that promised to lead to a cure for kids like Joey. But treatments unexpectedly failed and CF was deemed incurable. It was only after the Cystic Fibrosis Foundation, a grassroots organization founded by parents, formed an unprecedented partnership with a fledgling biotech company that transformative leaps in drug development were harnessed to produce groundbreaking new treatments: pills that could fix the crippled protein at the root of this deadly disease.

From science writer Bijal P. Trivedi, Breath from Salt chronicles the riveting saga of cystic fibrosis, from its ancient origins to its identification in the dank autopsy room of a hospital basement, and from the CF gene's celebrated status as one of the first human disease genes ever discovered to the groundbreaking targeted genetic therapies that now promise to cure it.

Told from the perspectives of the patients, families, physicians, scientists, and philanthropists fighting on the front lines, Breath from Salt is a remarkable story of unlikely scientific and medical firsts, of setbacks and successes, and of people who refused to give up hope—and a fascinating peek into the future of genetics and medicine.
About the Author
---
Bijal P. Trivedi is an award-winning freelance writer specializing in medicine and health. Her work has taken her from the hidden vaults of New York's Metropolitan Museum of Art to the Serengeti Plains to Moscow's Star City, where she blasted off with space tourism entrepreneurs on the "Vomit Comet" for astronaut training. Her work has appeared in Discover, Scientific American, New Scientist, Wired, The Economist, National Geographic, Science, Self, Nature, among others. Her feature "The Wipeout Gene" was anthologized in The Best American Science and Nature Writing: 2012. Trivedi is the former editor of the NIH Director's Blog, which shares compelling, cutting edge biomedical research with the general public. Trivedi also worked as a writer and editor for the National Geographic News Service, a wire service she helped launch in partnership with the New York Times Syndicate.
Praise For…
---
"I couldn't put the book down."

—Bill Gates

"A thorough and engrossing saga packed with information, Breath from Salt is really about the transformative power of hope. It arrives at just the right moment, when too many of us have forgotten what human faith, ingenuity, and relentless determination can accomplish." 

—Dan Fagin, author of the Pulitzer Prize–winning Toms River

"Beautifully written, Breath from Salt brings to life the amazing story of a passionate community that dared to dream, work together, and take extraordinary risks to bring life-saving treatments to those with cystic fibrosis. Timely and important, the breakthroughs described in this book are likely to accelerate cures for many other genetic diseases."

—Dr. Preston W. Campbell, former president and CEO of the Cystic Fibrosis Foundation