I Am Yours: A Shared Memoir (Hardcover)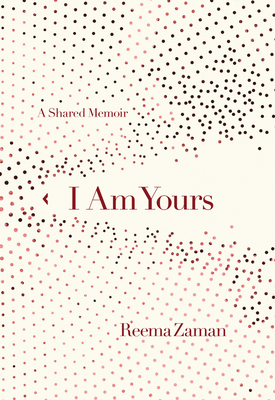 $24.99
Temporarily Unavailable
Description
---
It is time.

It is time to free our voice.

To speak is a revolution.

For too long, through the most intimate acts of erasure, women have been silenced. Now, women everywhere are breaking through the limits placed on us by family, society, and tradition. To find our voices. To make space for ourselves in this world. Now is the moment to reclaim what was once lost, stolen, forsaken, or abandoned.

I Am Yours is about my fight to protect and free my voice from those who have sought to silence me, for the sake of creating a world where all voices are welcome and respected. Because the voice, without intimacy, will atrophy. We're in this together. You are mine, and I am yours. 
About the Author
---
Reema Zaman is an award-winning actress, speaker, screenwriter, and author of the critically acclaimed memoir I Am Yours. I Am Yours has been adopted into the curriculum of several high schools through an Innovation Grant from the Oregon Department of Education and is being adapted into a movie. TheNew York Times states that "Zaman writes beautifully of the pain and frustration of being a woman in a man's world, an immigrant in a world suspicious of outsiders." 
 ​Reema's work has appeared in Vogue, Ms. Magazine, the Guardian, Salon, and other leading outlets. Reema is a renowned speaker and has been performing worldwide since she was six years old. She was the 2018 Oregon Literary Arts' Writer of Color Fellow and is currently partnering with the International Rescue Committee and Girls Inc. to serve crucial causes and empower the next generation of leaders. Born in Bangladesh and raised in Thailand, Reema splits her time between Portland, New York, and Los Angeles. As the only Reema Zaman in the world, she is easy to find on social media. You can find her on Instagram, Twitter, and at www.reemazaman.com.
 
Praise For…
---
"Zaman writes beautifully of the frustration and pain of being a woman in a man's world, an immigrant in a world suspicious of outsiders." 
—New York Times Book Review
"Powerfully vulnerable and eloquent, Zaman's voice is a fire—full-throated, wide-open, and roaring."
—Letitia Montgomery-Rodgers, Foreword Reviews
"Reema Zaman's keenly-felt, lyrically-written and artfully structured memoir,
I Am Yours
, joins a rare group of books that can lay claim to being 'transformative'.... You feel empowered and awed by her strength; in full respect, all you want to do is wish her the limelight. Zaman has arrived."
—Chaya Bhuvaneswar, author of White Dancing Elephants
"Zaman archives a personal journey that's intimate and attuned to a wider cultural moment. A staggering work filled with presence, I Am Yours provides a profound explanation of love, delivered as an act of witness. Powerfully vulnerable and eloquent, Zaman's voice is a fire—full-throated, wide-open, and roaring." —Foreword Reviews, starred review

"Reema Zaman's writing is a revelation and a revolution for women everywhere. Her lyrical prose introduces you to a world that every woman has lived in at some point in her life: one of doubt, and fear, and relentless questioning of yourself and everything you know, and then breaks it all open to create new possibilities and hope, firmly grounded in resilience. " —Megan Kovacs, Director of Community Relations, Girls Inc. of the Pacific Northwest
 
"Reema Zaman's memoir portrays a beautiful, magical journey that is an inspiration to women everywhere.
I Am Yours
is a rare find that captures the true essence of being a female with flaws and imperfections... She is a born leader with much wisdom that is brilliantly enraptured and depicted in her self-inspired book of healing." 
—Trisha Sakhuja-Walia, CEO of BrownGirlMagazine.com
"The strength of the narrative portrays how a person who has contended with enormous tragedy can summon the resolve to confront and rise above it, and courageously share it with others... Memoir fans will appreciate Zaman's journey." 
—Library Journal
"Reema Zaman reveals a new way to write memoir—one that speaks back to trauma in her revolutionary style.
I Am Yours
has proved an essential guidebook for authors who wish to harness their internal witnesses and speak compassionately to themselves throughout the writing process."
—Brevity Magazine blog review
"In this candid book, Zaman not only celebrates her quest to define herself and her voice, but also to find health, self-love, and wholeness. An eloquently searching and intelligent memoir."
—
Kirkus Reviews
"When I heard Reema Zaman speak at a reading soon after the 2016 election, I thought, This is the soundtrack of a modern resistance." —Guernica Magazine
​
"Tender, fierce, compassionate, and wise, Reema Zaman's
I Am Yours
is a moving story about how one woman found her voice—and her power. I was enthralled by this beautiful book from the first page to the last." 
—Cheryl Strayed, New York Times bestselling author of Wild, Tiny Beautiful Things, and Torch
"Reema teaches us a new way to think about self-love and self-care....She teaches us that something magical—perhaps revolutionary—happens when we engage in dialogue with ourselves: we close the hyphen between the self and something good."
—Julie Moon,
The Rumpus
"My heart just burst into a thousand songs after reading
I Am Yours
by Reema Zaman. From the first word to the last, this story is a phenomenal triumph of one woman's body and voice rising up and through a culture that would quiet her....A stunning debut." 
—Lidia Yuknavitch, bestselling author of The Misfit's Manifesto, The Chronology of Water, and
The Book of Joan
"The lasting grace of I Am Yours resides in Zaman's exquisite and lyrical voice, at once searing and tender, that bravely seeks to portray the timeless complexities of the female condition and speak truth to power." —Ms.Magazine

"There is an unwavering confidence to Zaman's prose. A pulse point, that calls to mind unflinching memorists that precede her. Melissa Febos and Cheryl Strayed." —Chicago Review of Books
"A healing book that lifts you up. One woman's testimony and heart on the page. Reema Zaman's grace is staggering and true. What a gift." —Terese Mailhot, New York Times bestselling author of Heart Berries
"This book is a powerful portrait of Reema Zaman and her pursuit of empowering herself and others to heal from adversity and reclaim their own voice and bodies for themselves. Zaman's resilience is undeniable, and her poetic and honest voice add to a deeply moving and unforgettable memoir." —Nadya Okamoto, author of PERIOD: A Menstrual Movement, Founder of PERIOD
 
"Astonishing—as light as a healing wand, and as deep as honesty can go. Reema Zaman has the voice and wisdom of a leader. Do yourself a favor and read
I Am Yours
. 
—Rene Denfeld, author of New York Times bestselling The Child Finder
​​"A fabulous trajectory of powerful transformation." —Forbes
"Zaman's lines of love to her readers are urgent, unhurried, generous, and, yes, uniquely deserving of the appellation gorgeous." —The New York Journal of Books
 
 
"I Am Yours is one of those rare books that begs to be devoured and savored in equal measure. It's more than a memoir; it's a spiritual guide." 
—Gemma Hartley, author of FED UP: Emotional Labor, Women, and the Way Forward
"Public speaker Zaman debuts with the powerful account of how she grew from being a voiceless girl to a woman with a confident 'roar'... This lovely work of hope and resilience will resonate with women struggling to find their voice and place in the world."
—Publishers Weekly
"Zaman's debut memoir is radical self- and other-love, claimed and gathered through shining language, hard-won and thoughtful. It's poetry and social deconstruction and revolution – a book to be kept close at hand, a nightstand book lit from within by the audacity to cherish the Self, independent and whole.​"
—Jenny Forrester, author of Narrow River, Wide Sky