Pryor Convictions: And Other Life Sentences (Paperback)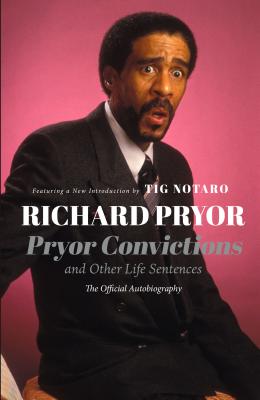 Not available to order
Out of Print. Not available to order.
Description
---
Finally back in print, Richard Pryor's 1995 smash hit Pryor Convictions follows Pryor's life from his upbringing in a brothel in Peoria, Illinois, where he was sexually assaulted by a man in his neighborhood, to his early years as a stand-up comic in New York through fame, fortune, drug addiction and the infamous freebase cocaine incident, seven marriages to five women, and finally a diagnosis of multiple sclerosis. Still pertinent and as fresh as it was when first published, Pryor Convictions, gives a glimpse of the life of the greatest comedian of his generation. With a keen eye and his trademark humor, Richard Pryor delivers an entertaining powerhouse of a memoir that is sure to enthrall the next generation of comedy fans.

About the Author
---
Born in 1940 in Peoria, IL, Richard Pryor was one of the most important comedians of his time. Dealing with race, class, and sex with a voice that was, for some, too truthful, Pryor changed the comic landscape, breaking all the rules on what a stand-up should do or say. Richard Pryor won an Emmy and five Grammy awards, and was the recipient of the Kennedy Center Mark Twain Prize for American Humor in 1998. He had multiple gold and platinum albums of his comedy, including That Nigger's Crazy (1974), ...Is it Something I Said? (1975), and Bicentennial Nigger (1976). He wrote for film and television, including Sanford and Son and Blazing Saddles, and was a guest host on the first season of Saturday Night Live. His stand-up comedy concert films Richard Pryor: Live in Concert (1979), Richard Pryor: Live on the Sunset Strip (1982), and Richard Pryor: Here and Now (1983) changed the comedy landscape and inspired a whole new generation of comics. As an actor, he starred mainly in comedies such as Silver Streak (1976) and Stir Crazy (1981), but occasionally in dramas, such as Paul Schrader's Blue Collar (1978). Pryor was diagnosed with Multiple sclerosis in 1986, and after suffering multiple heart attacks, died in 2005. In 2017, Rolling Stone ranked him number one on its list of the 50 best stand-up comics of all time.