The Typists Play Monopoly (Paperback)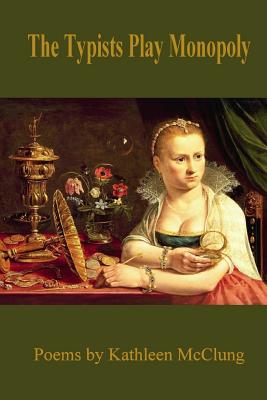 $19.55
NOT on our shelves now. Usually ships 1-10 business days from warehouse. ETA will be updated with email order confirmation.
Description
---
I have long admired Kathleen McClung's sonnet crowns. How happy I was, then, to be surprised by her skill with the sestina, one that she writes with a traditionalist's sense of meter and a contemporary poet's sense of the conversational. I was also delighted by her boldness in including several sestinas in her volume, along with her crowns. The book, in fact, should be required reading for the achievement of her forms alone. Yet, to this, she adds an almost religious approach to life, where there is a sense of the sacred about the world's idiosyncrasies and activities, whether shredding documents or washing down wheelchairs. The last line of the title poem, "I am the fox, alert, leaping," is a symbol of McClung herself. The enormity of her technical skill in The Typists Play Monopoly is awe-inspiring, but, when combined with her message, it is her genius.
-Kim Bridgford, editor, Mezzo Cammin; author of Doll
It takes a rare poet to write poems like these, using traditional verse forms to honor the lives we don't see. In sestinas, villanelles, centos, and three masterful crowns of sonnets, Kathleen McClung chronicles what we might otherwise miss with compassion, intelligence and sure-footed grace. In poems by turns devastating and witty, this collection draws our attention to "what breathes beneath the veils" to witness the lives unfolding in rented houses and back alleys. McClung won't avert her gaze-and won't let us either-burnishing her real and imagined subjects until they shine, luminous against the dark. I don't know which I admire more: the mastery of craft or the perceptive sensibility of the poet.
-Holly J. Hughes, author of Sailing by Ravens and Passings
Not a collection of poems, but a compendium of memories woven so tightly into a unified longing that it is easy to forget we are looking at a life other than our own, Kathleen McClung's first book, The Typists Play Monopoly, is a wondrous example of how to loop a mesmerizing arc through a body of work. Many of the poems resemble vignettes, or short theatre pieces, as McClung opens and closes the door on remembrances that ache in their brightness, pulse with their inability to relinquish the stage in her head. Precise imagery and taut language unearth the landscape our own subconscious knows of our hometowns, then repurposes, repopulates our recollections with these new, exciting-and, often, eerily tragic-characters from a northern California of unabashed disquiet and beauty.
-Indigo Moor, Sacramento Poet Laureate.
About the Author
---
Kathleen McClung, a native of northern California, is the author of the 2013 chapbook Almost the Rowboat. Her work appears widely in journals and anthologies including Atlanta Review, Ekphrasis, Mezzo Cammin, The MacGuffin, Peacock Journal, Unsplendid, Raising Lilly Ledbetter: Women Poets Occupy the Work Space, and A Bird Black as the Sun: California Poets on Crows and Ravens. Winner of the Rita Dove and Maria W. Faust poetry prizes, she was the winner of the inaugural Shirley McClure poetry prize at the 2016 Los Gatos Listowel Writers' Festival and winner of the grand prize of the Ina Coolbrith Circle 2017 poetry contest. McClung is a three-time finalist for the Morton Marr poetry prize and a Pushcart and Best of the Net nominee. She serves as associate director of the Soul-Making Keats literary competition and sponsor/judge of the sonnet category, and she presents at readings, panels and workshops across the country. She holds masters degrees in education and English from Stanford University and California State University Fresno and teaches at Skyline College and The Writing Salon. She directs Women on Writing: WOW! Voices Now on the Skyline campus, celebrating creativity in writers of all ages. She lives in San Francisco.