Wild Geese Sorrow: The Chinese Wall Inscriptions at Angel Island (Paperback)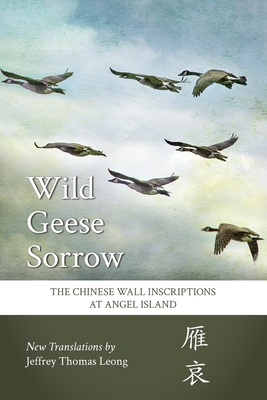 $17.95
ON HAND in at least ONE of our stores. Click through or call for up-to-the-minute availability.
Description
---
Wild Geese Sorrow: The Chinese Wall Inscriptions at Angel Island by Jeffrey Thomas Leong is the first new translation in almost 40 years and takes readers through the deep anger, sorrow, and loneliness felt by the Chinese immigrant detainees at the Angel Island Immigration Station between 1910-1940. Sequenced to narrate the detainee experience, the poems tell of arrival, long detentions, medical exams, political outrage, and for some, deportation. Readers will also learn the nuances of literary translation and about a critical period of American immigrant history, so essential to our contemporary policy debates.

Wild Geese Sorrow presents Leong's 20+ years of writing experience into a moving collection that offers readers:

• 70 newly-translated Angel Island Chinese wall poems presented in the original Chinese characters and with their English translations on facing pages
• Brief foreword by David Wojahn, Pulitzer Prize-nominated poet, tying Angel Island poetry to the great World traditions of protest literature
• A robust introduction contextualizing these poems with Chinese immigrant history at Angel Island, classical T'ang poetry, literary expressions of personal and political outrage, and the difficulties of translation for the 21st century American reader
• Extensive endnotes which provide essential cultural, historical and linguistic context for the work
• A small glossary of places, names and terms
• A full bibliography of resources on Chinese American immigrant history, T'ang era poetry, and the practice of literary translation
• A complete finding list for the mostly untitled and anonymously-written poems
• Chapter heading photographs of wall poems in situ, historical events, and physical site

"But what purpose did these wall poems serve to their original authors? Given the basic education received by these new immigrants, their act of writing poetry was transformational; by taking hardship and expressing it artistically, they elevated it to the archetypal," says Leong. "An expression of personal feeling may be therapeutic in a Western sense, but for these immigrants it was also communal, literally on the walls of the barracks in which they were detained and for all their compatriots to see."

About the Author
---
Jeffrey Thomas Leong is a poet and writer born in Southern California and raised in the San Francisco Bay Area. He holds an MFA degree from the Vermont College of Fine Arts, and a BA and JD from the University of California at Berkeley, where he helped found the Asian American Studies program in the 1970s. For over twenty years he worked as a public health administrator and attorney for the City of San Francisco. His writing has appeared in Crab Orchard Review, Cimarron Review, Bamboo Ridge, Hyphen, Cha: A Literary Journal, Spillway, Eleven Eleven Literary Journal, Poetry Flash, and elsewhere. He lives with his wife and daughter in the East Bay.
Praise For…
---
"Jeffrey Thomas Leong is a fine poet, and his translations of 70 of the poems are nuanced,
affecting, and informed by a haunting but astringent music. They do commendable justice
to the Angel Island poets, writers who were not welcomed to these shores—but who
nevertheless made a crucial and indelible contribution to our national literary culture."
— David Wojahn, author of Interrogation Palace

"Jeffrey Leong's Wild Geese Sorrow is a marvelous translation of the wall poems written by Chinese held at Angel Island, California, from 1910-1940, during their immigration review. His keenly nuanced translations follow the lineation of the original poems and juxtapose images that show their classical poetic lineage. Most importantly, he humanizes each speaker by articulating the emotional pressure behind each poem. In a time of antiimmigrant sentiment, this book is important reading for all Americans."
—Arthur Sze, author of The Red-Shifting Web

"This beautiful book is haunted by the sad and angry presence of nameless men who
carved their feelings into Angel Island walls. Leong's translations and sequencing,
footnotes, and historical contextualization gift us with a glimpse into a world we might
otherwise never know. Why did these men leave home? What were their thoughts about
families and villages they left behind? How did they view their detention, jailers, and
interrogators? Leong unveils the diversity of their personalities and social backgrounds.
These poems are at the foundation of Asian American literature and are an essential
contribution to American literary history."
— Elaine H. Kim, Professor of Asian American and Asian
Diaspora Studies, University of California, Berkeley