Illustoria: For Creative Kids and Their Grownups: Issue #10: Color (Paperback)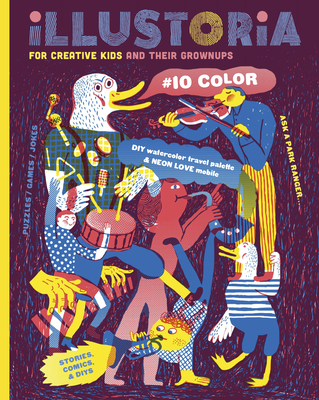 $16.00
On Our Shelves Now. Call store for up-to-the-minute availability.
Description
---
McSweeney's is now publishing Illustoria, the beloved art & storytelling magazine for children. Illustoria is a print magazine for creative kids & their grownups. We celebrate visual storytelling, makers and DIY culture through stories, art, comics, interviews, crafts and activities. Our high-quality, tri-annual publication is geared toward readers ages 6-12 and the young at heart.
Praise for Illustoria Magazine

"This is the kind of magazine you keep on your bookshelves with your favorite books."
- Cece Bell, author of El Deafo
"It's a rewarding offering that I hope sticks around for many years down the line."
- Julie Danielson, Kirkus Reviews, blogger of Seven Impossible Things Before Breakfast
"(A) visually exciting magazine with a DIY attitude . . . offer(s) plentiful opportunities for engagement, while the quality artwork and inventive layouts are sure to inspire imaginative responses."
-School Library Journal
"Cover to cover, its content and aesthetics are smart, modern and engaging. Illustoria is a magazine I would've loved to have growing up."
- Michelle Sterling, Avery & Augustine
Illustoria #10 includes......
Interviews with:
JooHee Yoon
Larry Yes
Youth Entrepreneur: Are You Kidding Socks
Youth Activists: Young Black Motivated Kings & Queens

Plus:
Ask A Park Ranger

Fiction:
Granny's New Toy by Eileen Quinn, art by Anis Mojgani
Think Pink by Esme MacIntyre
Flower & Bird by Anis Mojgani

Nonfiction:
How We See Color by Jamyelese Ryer art by Lan Truong
Color By Note by Amanda Willemse
Lexigraphique by Michael Buchino
History of Color by Alexis Joseph, art by Lindsay Stripling
Mantis Shrimp by Docu-Comix, art by Julia McNamara
Medieval Era by Vaughn Parish
Literary Giants by Docu-Comix
Poem Comics by Grant Snider
Draw & Write:
Miscellaneous Revelry by Emmy Kastner
Draw This: Pattern by Megan Dailey
Coloring Pages by Annie Dills
Draw This: Dance Move by Alessandra Marin
Young Writers:
Winter to Spring by Sanaiya V, art by Charlotte Ager
Color Haikus by students at 826 Valencia
Small Talk curated by Eli Johnson art by Anis Mojgani
Make:
DIY Travel Palette by Maggie Wauklyn
DIY Neon Love Mobile by Larry Yes
Eat Purple by Mascot Press
DIY Moody Self-Portraits by Julie McNamara
Play:
50 Collectible Cards by Amy Sumerton