The Whole of the Moon: A Novel (Paperback)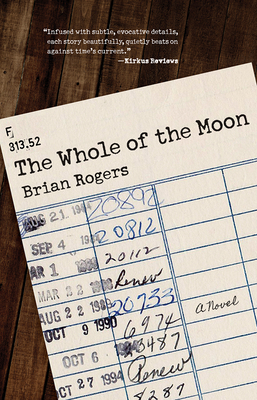 $21.95
Temporarily Unavailable
Description
---
The Whole of the Moon consists of six crisscrossing narratives set along the old Route 66, from the Inland Empire to the terminus just off Sunset Boulevard. The stories span the years from the late 1950s to the present, and the characters are bound by a fact unknown to them: they have each checked out the same public library copy of The Great Gatsby.
 
An actor sits poolside waiting to hear whether he has been cast in a television pilot. Two kids ditch school in 1964 and go for a hike in the woods that turns dangerous. A woman named Dot remembers her husband who spent years working on a musical adaptation of The Great Gatsby. A young woman Felicity deals with the consequences of an unexpected pregnancy. Mike, a former high school star, attends an open tryout for the California Angels baseball team. And a boarding school teacher tells the story of his cousin, a social climber who has disappeared in the wake of a murder. These are the characters that populate The Whole of the Moon. Brian Rogers' novel is about determination and failure and life in Southern California away from the red carpet.
About the Author
---
Brian Rogers is an award-winning playwright and one-time stand-up comedian. His stories have appeared in Story Magazine, Convergence­, The Exeter Bulletin, The Other Side, and The City: San Francisco's Magazine. He lives in Orange County and teaches in Claremont, California.
Praise For…
---
"A single copy of The Great Gatsby begets another novel…Over some 50 years it will be checked out and read by the main characters in this first novel…Infused with subtle, evocative details, each story beautifully, quietly beats on against time's current." —Kirkus Reviews

"As a fracturing of The Great Gatsby, with its themes of careless wealth, vanity, self-delusion and self-destruction, the novel examines Los Angeles in fragments of stories that feature a wide range of characters to create a composite portrait of a place that's riven with doubt, ambition, hope: deeply American qualities that lead here, as in real life, to disappointment and loss. I kept thinking about this book and its desperate characters long after I had finished it." —Charlotte Bacon, author of The Twisted Thread

"Throughout the novel, another connection becomes clear in these seemingly disparate tales: Each of the main characters has checked out the same library copy of The Great Gatsby. Arguably a—if not the—Great American Novel, The Great Gatsby's universal themes appear in each of these character's lives. Debut author Brian Rogers splinters and weaves together the book's themes of vanity and self-delusion in these captivating tales." —BookPage
 

"A single copy of The Great Gatsby begets another novel…Over some 50 years it will be checked out and read by the main characters in this first novel…Infused with subtle, evocative details, each story beautifully, quietly beats on against time's current." 
— Kirkus Reviews

"Throughout the novel, another connection becomes clear in these seemingly disparate tales: Each of the main characters has checked out the same library copy of The Great Gatsby. Arguably a—if not the—Great American Novel, The Great Gatsby's universal themes appear in each of these character's lives. Debut author Brian Rogers splinters and weaves together the book's themes of vanity and self-delusion in these captivating tales."
— Book Page