Anything That Burns You: A Portrait of Lola Ridge, Radical Poet (Paperback)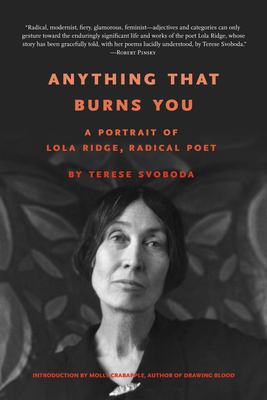 $20.85
NOT on our shelves now. Usually ships from warehouse in several days.
Description
---
Author, poet, and memoirist Svoboda takes the reader on a fascinating journey from Ridge's childhood as a newly arrived Irish immigrant in the grim mining towns of New Zealand, to her years as a budding writer in Sydney, Australia, to her migration to America and the cities of San Francisco, Chicago, and New York. Once considered one of the most popular poets of her day, Ridge later fell out of critical favor due to verse that looked head on at the major issues of her time. This lively portrait is a who's who of all the key players in the arts, literature, and radical politics of the time, in which Lola Ridge stood front and center. Now more than ever this biography offers inspiration to all those engaged in dissenting literature of our time and the movements that have inspired this renaissance of literary activism that we are seeing today.
About the Author
---
Terese Svoboda is an American poet, novelist, memoirist, short story writer, translator, critic, and videomaker. Her memoir Black Glasses Like Clark Kent was the winner of the Graywolf Press Prize for Nonfiction. Molly Crabapple is an artist, journalist, and author of the memoir, Drawing Blood. She has reported from Guantanamo Bay, Abu Dhabi's migrant labor camps, Syria, Lebanon, Gaza, the West Bank, and Iraqi Kurdistan. Crabapple is a contributing editor for VICE, and has written for publications including The New York Times, Paris Review, and Vanity Fair.
Praise For…
---
"Svoboda resurrects the fascinating life and work of Lola Ridge. A lively, complex portrait emerges . . . of a talented, driven woman for whom 'art and activism were one' and who deserves remembrance not just as 'a fulcrum of modernism' but a premier poet in her own right." —Publishers Weekly
"Discovering Ridge's work and life will be a delight for readers of women authors, feminism, and poetry, especially those interested in activist writers." —Library Journal 
"Radical, modernist, fiery, glamorous, feminist- adjectives and categories can only gesture toward the enduringly significant life and works of the poet Lola Ridge, whose story has been gracefully told, with her poems lucidly understood, by Terese Svoboda." —Robert Pinsky former Poet Laureate Consultant, Library of Congress
"In Anything That Burns You Terese Svoboda entertainingly parses the enigmatic life and powerful writing of Lola Ridge, an immigrant who burned for many years as a vital force among American artists challenging the 'socially acceptable' limits of both literature and human behavior. A story of prejudice, ambition and personal struggle, with Ridge's long-neglected talent shining through it all." —John Sayles, Two-time Academy Award nominated screenwriter, director, and novelist
"This is the biography of Lola Ridge many of us have been waiting for. Elegantly and accessibly written, thoroughly researched, it gives us everything we need to recover this extraordinarily versatile writer. Ridge was at the center of American modernism for years, not only as a writer but also as an editor and a political activist. No one who cares about American culture will want to miss this book." —Cary Nelson, Editor, Anthology Of Modern American Poetry (Oxford 2014)
"Anything That Burns You tells the riveting story of Lola Ridge, a revolutionary and influential poet of her time, now (like so many female artists) lost to history. Terese Svoboda has written a brilliant biography, as original as it is compelling, and a fascinating exploration of literary legacy . . . A poet herself, Svoboda's insights are startling and apt, and she constructs a colorful, well-researched background for re-considering Ridge's considerable achievements. We need more books like this one." —Rene Steinke, author, Holy Skirts
"If any subject was going to entice poet, novelist and memoirist Terese Svoboda to bring her formidable narrative mastery to bear on the form of the literary biography, it had to be Lola Ridge. Bringing her own lyric eye to Ridge's poetry, Svoboda reveals the innermost machinations of the woman and reminds us why it is essential to know the life and work of Lola Ridge . . . In this glorious and important book, Svoboda rehabilitates Ridge from the crime of being born a woman." —Anne Kennedy, author, The Last Days of the National Costume
"The sort of all-this-and-a-cherry-on-top profound scalpel-sharp biography. Svoboda has excavated the cold ash of archives and the dirt of dead, lit-scene gossip to bring out the golden contours of a poet's life." —Molly Crabapple, author of Drawing Blood
"Anything That Burns You... is a much needed biography. Terese Svoboda presents Ridge as a central and overlooked node in the development of American modernism, through which we can re-read its experimental, feminist, immigrant, cosmopolitan, and national formations." —Joshua Logan Wall, Journal of Modern Literature