Hard To Grip: A Memoir of Youth, Baseball, and Chronic Illness (Paperback)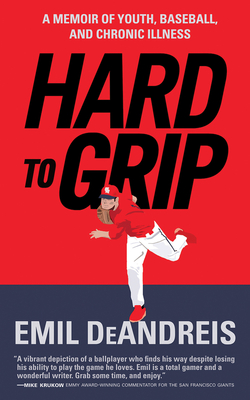 $16.95
Temporarily Unavailable
Description
---
In 2008, after a record-breaking career as a D1 college baseball player, Emil DeAndreis' life seemed set: He was twenty-three, in great shape, and had just been offered a contract to pitch professionally in Europe. 
 Then his body fell apart. 
 It started with elbow stiffness, then swelling in his wrist. Soon, his fingers were too bloated to grip a baseball. He had Rheumatoid Arthritis, a disease that causes swelling and eventual deterioration of the joints, mostly targeting old people and women. 
 Hard To Grip tells the story of a young man's body giving out when he needs it most. It chronicles an ascending sports career, the ups and downs of life in the NCAA, and the challenges of letting go of pro baseball due to a dehumanizing condition. In a series of humorous anecdotes, Emil takes the reader on his bittersweet journey of a young man's having to grapple with an "old woman's disease." From striking out future major leaguer All Stars, to sitting in support groups; from breaking university records, to barely making it up the stairs; from language barriers with Chinese healers to figuring out how to be employed as a vegetable, this book unveils the disease with humor and fearless honesty through the eyes of an unlikely victim. This memoir is an honest, rueful and at times hilarious story about learning to come to terms with a new reality, and an inspiring account of how Emil learned to run with the disease and not from it.
About the Author
---
Emil DeAndreis is the author of Beyond Folly (Blue Cubicle Press). He is a high school baseball coach, and he teaches English at College of San Mateo. He lives in San Francisco with his wife.
Praise For…
---
"A vibrant depiction of a ballplayer that finds his way despite losing his ability to play the game he loves. Emil is a total gamer and a wonderful writer. Grab some time, and enjoy." —Mike Krukow, former Major League pitcher, Chicago Cubs, Philadelphia Phillies, San Francisco Giants; color commentator, San Francisco Giants

"The soul of baseball is in the stories it tells. Hard to Grip is an inspirational, sad and amusing tale of a real life, told right by Emil DeAndreis." —Tim Brown, co-author with Jim Abbott, New York Times best-seller Imperfect: An Improbable Life; co-author with Rick Ankiel, The Phenomenom

"Hard to Grip is the genuine article: A baseball story about a player and his traumatic, insane, hilarious and completely relatable love of the game—and how fragile that love is." —Dirk Hayhurst, former professional baseball pitcher; author, New York Times best-seller The Bullpen Gospels

"Hard to Grip is a quintessential baseball story: one of talent, success, disappointment and redemption. DeAndreis writes with honesty and humor about losing the sport that was once his identity, and his struggle to find a new one." —Justin St. Germain, author, Son of a Gun and winner, 2013 Barnes & Noble Great New Writers Award for Nonfiction

"It is rare to read an account of a young man's struggle to cope with RA. Emil DeAndreis hits a home run in this honest and raw memoir about his life in and out of baseball." —Alida Brill, co-author, Dancing at the River's Edge: A Patient and Her Doctor Negotiate Life with Chronic Illness

"In his funny/sad/unfiltered memoir, Emil DeAndreis poignantly paints a picture of one young man's lost aspirations . . . and how to climb back on the metaphorical mound and learn new and more meaningful pitches." —Larry Colton, former pitcher for the Philadelphia Phillies; author, Counting Coup and Southern League

"Emil's passion for the game brings me back to childhood. I can smell the ballpark, the grass, the dirt. His love for the game is felt on every page, and is contagious to us 'last of the old dogs.'" —Tim Flannery, Third Base Coach for three-time World Series champions the San Francisco Giants

"Just finished a great book by Emil DeAndreis. Hard to Grip. A fun & honest look inside the struggles faced & love needed to chase a dream." —Dallas Braden, former MLB pitcher, Oaklands A's; commentator, ESPN's Monday Night Baseball

"Kept me glued to every word. Emil's writing style flows with ease from page to page, making it easy and fun to read." —William Coppola, NY Sports Day

"Hard To Grip is a moving, human portrait of the way baseball can impact a life, and how difficult it can be to change the mindset from being a player to being a fan." —Ashley MacLennan, blessyouboys.com