It's All Greek to Me: Transform Your Health the Mediterranean Way with My Family's Century-Old Recipes (Paperback)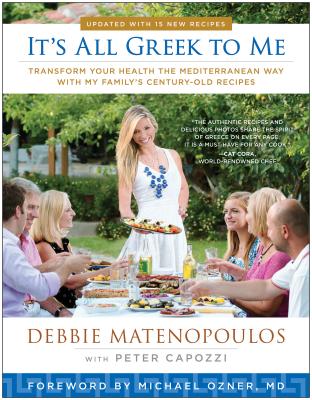 $21.95
Temporarily Unavailable
Description
---
Debbie Matenopoulos, the first member of her family born in America, grew up in a traditional Greek household, eating delicious, authentic Greek cooking that her family had passed down for generations.

By the time Debbie had started her television career in New York on The View, she began eating a standard American diet. But despite carefully limiting how much she ate, she found herself gaining weight and lacking energy. As Debbie's career as an entertainment news reporter and television host on BS, MTV, E!, and other networks had her constantly on the go, she was grabbing whatever food was readily available. It was only when she returned to her traditional Greek diet that she found herself easily—and healthily—realizing her natural weight and regaining her natural energy, stamina, and physique.

Now, in It's All Greek to Me, Debbie shares 120 of her family's traditional Greek recipes and adds her own touch to make them even healthier and easier to prepare.

After tasting Debbie's dishes, such as her mouthwatering version of Spanakopita (Spinach Feta Pie), Kalamaria Kaftera (Spicy Calamari), her family's secret recipe for Baklava, and, of course, Arni kai Patates (Classic Roasted Leg of Lamb with Potatoes)—you'll be amazed these delicious foods are good for you. With a foreword by Dr. Michael Ozner, one of the nation's leading cardiologists, the recipes in It's All Greek to Me adhere to the healthiest diet on the planet: the traditional Mediterranean Diet. Modern science is catching up to what Greeks have known for millennia: health comes from eating natural, whole-food ingredients that haven't been processed or pumped full of hormones, antibiotics, or preservatives.

Let It's All Greek to Me bring your friends and family together to share in the experience of a Greek meal and way of life. Opa!

A portion of all proceeds will benefit the ALS Association.
About the Author
---
Both of Debbie Matenopoulos's parents immigrated to the United States from Greece and instilled in her the concept of philoxenia, a passion for bringing friends, family, and even strangers together over the dinner table for meals made with love.

A two-time Emmy® nominee, Debbie has sustained her career as a compelling journalist and talk show host for more than a decade. After starting out on The View as the youngest person in daytime history to hold a permanent cohost position on network television, she went on to launch the TV Guide Channel, host the TBS hit series He's a Lady, write and sell a movie to Oxygen Network, and cohost FOX's Good Day Live. She then joined the E! Network family and began cohosting red carpet events, The Daily 10, and also hosted Fashion Police and Style Network's Instant Beauty Pageant. After E!, Debbie joined CBS Television's Entertainment Tonight and The Insider, where she covered everything from pop culture trends to the latest hard-hitting news.

Debbie is currently a cast member on Hallmark's "Home & Family" channel.
Praise For…
---
"This cookbook is deliciously stuffed with tradition and love."
—Nia Vardalos, writer and star of My Big Fat Greek Wedding

"This book is a must for anyone interested in experiencing the richness of the food and culture of Greece!"
—Olympia Dukakis, Academy Award and Golden Globe winner

"Debbie has really captured the essence of the true Greek classics that are my soul food. It is a must-have for any cook."
—Cat Cora, Iron Chef

"Like Debbie, my grandmother (Yiayia) always had something delicious and healthy waiting for us in the kitchen. I congratulate Debbie for gathering all these wonderful recipes together and never taking the gift of tradition and good health for granted."
— Melina Kanakaredes, star of CSI: New York

"I don't know anyone who embodies more fire, energy and passion into their everyday life the way Debbie does. You can feel it on every page of this beautifully written and photographed cookbook. The recipes are easy to follow, and the food is absolutely amazing!"
—Cristina Ferrare, New York Times bestselling author and cohost of Hallmark's Emmy-nominated Home & Family