The Tunnel at the End of the Light: Essays on Movies and Politics (Paperback)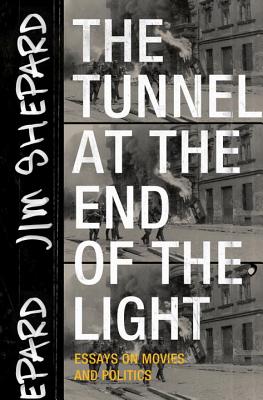 $17.55
Temporarily Unavailable
Description
---
"Shepard may be the best lesser-known film critic." —The New York Times Book Review



The first book of nonfiction from one of our great fiction writers.
Given that most Americans proudly consider themselves non-political, where do our notions of collective responsibility come from? Which self-deceptions, when considering ourselves as actors on the world stage, do we cling to most tenaciously? Why do we so stubbornly believe, for example, that our country always means well when intervening abroad?  



The Tunnel at the End of the Light argues that some of our most persistent and destructive assumptions, in that regard, might come from the movies. In these ten essays Jim Shepard weaves close readings of film with cultural criticism to explore the ways in which movies work so ubiquitously to reflect how Americans think and act. Whether assessing the "high-spirited glee of American ruthlessness" captured in GoodFellas, or finding in Lawrence of Arabia a "portrait of the lunatic serenity of our leaders' conviction in the face of all evidence and their own lack of knowledge," he explores how we enter into conversations with specific genres and films—Chinatown, The Third Man, and Badlands among others—in order to construct and refine our most cherished illusions about ourselves. 
About the Author
---
Jim Shepard is the author of seven novels, including most recently The Book of Aron, five story collections, including Like You'd Understand, Anyway—a finalist for the National Book Award and won The Story Prize—and editor of the anthology Writers at the Movies. He lives in Williamstown, Massachusetts, with his wife, three children, and three beagles. He teaches at Williams College.
Praise For…
---
Shepard may be the best lesser-known film critic.
— Peter Biskind, The New York Times Book Review

It's a pleasure to read Shepard's graceful prose, and the insights just seem to flow from his pen. [These essays] remain vital for precisely the reason that the films they discuss remain vital: they balance entertainment with deeper concerns about morality and society. . . . This collection shows Shepard's voice to be as essential as ever.
— Publishers Weekly, Starred Review

Shepard displays a talent for sharp film criticism laced with equally penetrating political insight. . . . Amid the thumbs up or down style that dominates 21st-century American film criticism, Shepard's provocative engagement with this art form offers a bracing change of pace.
— Shelf Awareness

Intriguing and surprising . . . [Shepard] finds new relevance in every movie he endeavors to explore.
— Kirkus

As our new president continues to make fresh breakthroughs in reckless buffoonery, it can be tempting to cast 'a rosy glow backward' on George W. Bush and his policies. In this astringent and witty collection, Shepard argues convincingly that to do so would be a travesty.
— The Washington Post

Fans of Jim Shepard's wonderful fiction will be further entranced by the range, scope and emotion of his nonfiction work.
— Highbrow Magazine