Xoeteox (Paperback)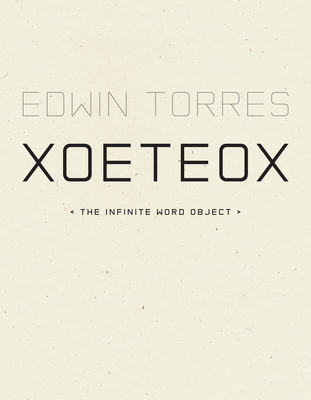 $18.00
ON HAND in at least ONE of our stores. Click through or call for up-to-the-minute availability.
Description
---
"There is no other poet who writes like Torres. Elaborate, chanting, pointed, and granite in their 'octaves of shine, ' his poems have it all. They are a real and gritty pleasure to read, a necessary tonic to these toxic times." --John Yau
What does a book want to be in anyone's hands but an infinite word object? XoeteoX is a dare into perception, traversing territories of language, sound, and the visual page. At the intersection of identity, performance, and typography, these poems compel reader and word into being, presenting a pact towards understanding and the mutual beyond.
between you and me
a skin of cognition -- a container holding us together -- connecting us
your skin is incredibly porous
your existence -- unfolding within it

a journey leading back to its creation --
a right now -- in the making that forms the beginning
of what you end -- right now
Edwin Torres is the author of eight books of poetry, including Ameriscopia (University of Arizona Press), Yes Thing No Thing (Roof Books), The PoPedology Of An Ambient Language (Atelos Books), and editor of the forthcoming anthology, Out Of Each Other: An Anthology Of The Body In Language (Counterpath Press). He has performed worldwide and taught his process-oriented workshop, "Brainlingo: Writing The Voice Of The Body," across the nation.