My Chinese-America (SFWP Literary Awards) (Paperback)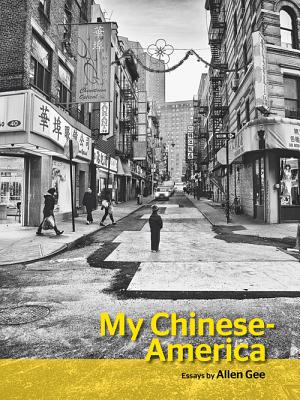 $15.95
NOT on our shelves now. Usually ships from warehouse in several days.
Description
---
Eloquently written essays about aspects of Asian American life comprise this collection that looks at how Asian-Americans view themselves in light of America's insensitivities, stereotypes, and expectations. My Chinese-America speaks on masculinity, identity, and topics ranging from Jeremy Lin and immigration to profiling and Asian silences. This essays have an intimacy that transcends cultural boundaries, and casts light on a vital part of American culture that surrounds and influences all of us.
About the Author
---
Allen Gee is an associate professor of English at Georgia College, where he teaches in the MFA program, and edits for the journal Arts & Letters. He lives in Milledgeville, Georgia.
Praise For…
---
"This collection presents a part of American culture that most readers are not particularly familiar with, shedding light into a world that has been in the shadows. These essays are told slowly and meticulously with a subtle style that engages and entices the reader—a very difficult undertaking that succeeds admirably. There are messages and astute reflections here, that kept me and will keep others captivated."  —Lee Gutkind, founder and editor, Creative Nonfiction literary magazine
"This is truth-telling, which is harder to do in a highly diverse cultural context like America. My Chinese-America depicts how Asian-Americans view themselves compared to the insensitivities of the nation. Each essay has its own identity, eloquently defining what makes us human. Vital sensibilities are here, not eroded by Western beliefs, and these moral values should be greatly appreciated."  —James Alan McPherson, Pulitzer Prize–winning writer
"Intimate and wide-ranging, these probing essays complicate our picture of both Asian Americans and America. I will be thinking about all Gee so ably describes for a long time."  —Gish Jen, award-winning author
"Masculinity, mobility, history, and the American dream of equality all take their turn under Gee's lens, as he shrewdly navigates a culture saturated with the privilege of white America and the realities of continued segregation in the so-called New South." —Publishers Weekly
"An arresting contribution to Chinese-American literature. These essays -- honest, inventive, and deft in form -- clearly contribute to the best of contemporary creative nonfiction, especially as it concerns American racism and integrity of self. They bear comparison to James Alan McPherson's A Region Not Home, and to the examples of James Baldwin, George Orwell, and Thoreau." —DeWitt Henry, Ploughshares
"Provocative and thought-provoking essays." —Kirkus Reviews