The Secret of Hoa Sen (Paperback)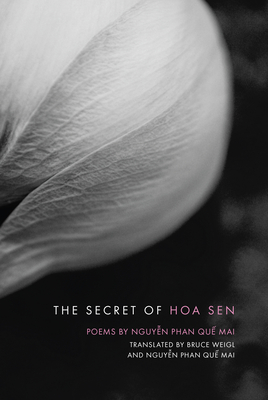 $17.00

NOT on our shelves now. Usually ships from warehouse in several days.
Description
---
Poems by Nguyen Phan Que Mai Translated from the Vietnamese by Bruce Weigl and Nguyen Phan Que Mai Nguyen Phan Que Mai is among the most exciting writers to emerge from post-war Vietnam. Bruce Weigl, driven by his personal experiences as a soldier during the war in Vietnam, has spent the past 20 years translating contemporary Vietnamese poetry. These penetrating poems, published in bilingual English and Vietnamese, build new bridges between two cultures bound together by war and destruction. The Secret of Hoa Sen, Que Mai's first full-length U.S. publication, shines with craft, art, and deeply felt humanity. I cross the Lam River to return to my homeland
where my mother embraces my grandmother's tomb in the rain,
the soil of Nghe An so dry the rice plants cling to rocks.
My mother chews dry corn; hungry, she tries to forget.
About the Author
---
About the Author Born into the Vietnam War in 1973, Nguyen Phan Que Mai grew up witnessing the war's devastation and its aftermath. She worked as a street vendor and rice farmer before winning a scholarship to attend university in Australia. Upon her return to Vietnam, Que Mai contributed to the sustainable development of her homeland via her work with local and international organizations including UN agencies. She is the author of eight books of poetry, fiction, and non-fiction in Vietnamese; The Secret of Hoa Sen (BOA, 2014) is her first international publication, followed by her debut novel in English The Mountains Sing (Algonquin Books, 2020). Que Mai's writing has been translated and published in more than 10 countries and has received many honors, including the Poetry of the Year 2010 Award from the Hanoi Writers Association. Currently based in Indonesia, Que Mai's journalism regularly appears in major Vietnamese newspapers. For more information about Nguyen Phan Que Mai, visit her at nguyenphanquemai.com About the Translator The author of over twenty books of poetry, translations and essays, Bruce Weigl is the author of On the Shores of Welcome Home (BOA, 2019) and the translator of Nguyen Phan Que Mai's The Secret of Hoa Sen (BOA, 2014). His collection The Abundance of Nothing (Northwestern University Press, 2012) was a finalist for the 2013 Pulitzer Prize in Poetry. He has won the Lannan Literary Award for Poetry, the Robert Creeley Award, The Cleveland Arts Prize, The Tu Do Chien Kien Award from the Vietnam Veterans Against the War, fellowships at Breadloaf and Yaddo, and a grant from the National Endowment for the Arts. In 2018, he was awarded the "Premiul Tudor Arghezi Prize" from the National Museum of Literature of Romania. Weigl's poetry, essays, articles, reviews and translations have appeared in The Nation, The New Yorker, The Paris Review, Harvard Review, Harpers, and elsewhere. His poetry has been translated into Romanian, Spanish, Vietnamese, Chinese, Bulgarian, Japanese, Korean and Serbian. He lives in Oberlin, OH.