15-Minute Focus: Grief: Processing and Recovery: Brief Counseling Techniques That Work (Paperback)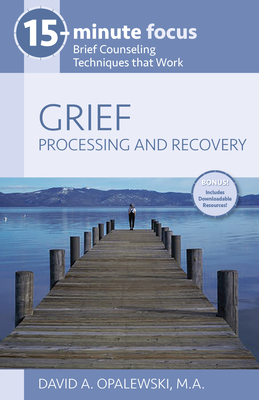 $14.95

NOT on our shelves now. Usually ships from warehouse in several days.
Description
---
In 15-Minute Focus: Grief: Processing and Recovery, Dave Opalewski offers school counselors and educators a primer on how to handle the death of a student or staff member.
No matter if the death was sudden or the result of a long illness, it can devastate an entire school family and its surrounding community. Students are impacted every time they walk into a classroom and see a classmate's empty desk or a substitute teacher sitting at a deceased teacher's desk. When tragedies like this occur, schools must respond quickly and offer what grieving students and staff need most comfort. In this book, Opalewski gives schools a guide for addressing the death of a student or staff member, including what to say and what not to say to students along with helpful communication and intervention strategies for school counselors, educators, and administrators.
What you'll get:
Learning the concepts and implementation process of comfort before counseling
Grief research and data for children and adolescents
Grief support group setup
Activities to help students process grief, classroom activities, tips for parents, and more
No school can truly prepare for the death of a student or staff member. A loss like this will shake the school family. But this book will give counselors and educators the information they need to respond to tragedy with understanding and comfort so that they can help students and staff work through their grief in a positive and productive way.
About the Author
---
David Opalewski, M.A. is the founder and president of Grief Recovery, Inc., in Saginaw, Michigan. He is an author, consultant, and a widely sought-after conference speaker and trainer for the tragedy component of school crisis teams across the country.David has a forty-four-year career in education. He has taught at the elementary, middle, high school, and college levels and was an at-risk counselor for eight of those years. During Opalewski's educational career, he experienced the combined deaths of twenty-six students and fellow staff members. He was a replacement teacher in a fifth-grade classroom for a teacher who was killed in an auto accident during the middle of the school year.He retired from Central Michigan University in May of 2017 as Professor Emeritus. David worked part time for three years in a funeral home as an aftercare consultant to the families of the deceased.