At Home on the Range (Hardcover)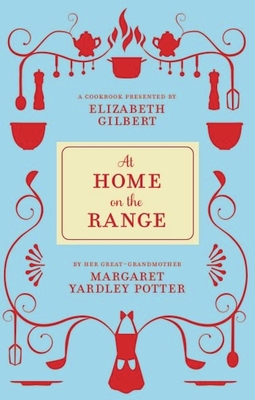 Not available to order
Out of Print. Not available to order.
Description
---
While unpacking boxes of old family books recently, Elizabeth Gilbert rediscovered a dusty, yellowed hardcover called At Home on the Range, originally written by her great-grandmother, Margaret Yardley Potter. Having only been peripherally aware of the volume, Gilbert dug in with some curiosity, and soon found that she had stumbled upon a book far ahead of its time. Part scholar and part crusader for a more open food conversation, Potter espoused the importance of farmer's markets and ethnic food (Italian, Jewish, and German), derided preservatives and culinary shortcuts, and generally celebrated a devotion to epicurean adventures. Reading this practical and humorous cookbook, it's not hard to see that Gilbert inherited her great-grandmother's love of food and her warm, infectious prose. Proceeds from this book benefit ScholarMatch (scholarmatch.org).

About the Author
---
Margaret Yardley Potter's book is culled from a lifetime of cooking and entertaining in her home, from the 1920s through World War II. In addition to being a cooking columnist for the Wilmington Star, she also painted, sold dresses, assisted in the birth of four grandchildren, and took up swing piano. Elizabeth Gilbert is the bestselling author of numerous books, including Eat, Pray, Love, now a major motion picture. In 2008, Time magazine named Elizabeth as one of the 100 most influential people in the world.
Praise For…
---
"When first published in 1947, At Home on the Range, by Margaret Yardley Potter, must have seemed a shockingly non-girly truth-talking cookbook and life guide. Read today--as introduced in a McSweeney's edition by Potter's great-granddaughter, Eat, Pray, Love author Elizabeth Gilbert--it is both artifact and artfully useful. Choice bit: Potter who died in 1955 at age 62, liked to invite guests not for dinner but rather for breakfast--'en neglige.' We're not surprised that Gilbert, who celebrates her 'Gima' throughout, comes from such feisty stock."
Sara Nelson, Oprah Magazine

"This book is a beautiful time capsule that looks back to the roots of American gastronomy, when the values of gardening and fresh ingredients were the primary inspiration. Margaret Yardley Potter's warm, witty stories and recipes show us that our great-grandmothers instinctually understood that food is central to a life well-lived."
Alice Waters

"Author Elizabeth Gilbert (A Skeptic Makes Peace with Marriage) does a wonderful service by bringing back the opinionated, modern-for-its-time cookbook of her eccentric great-grandmother Gima" Yardley Potter, first published in 1947... Chapters are devoted lovingly to what foods best to bring hospitalized friends, mastering cocktails, and organizing emergency meals and effortless entertaining. In her bright, determined tone (Is your cigarette finished? Let's go"), Yardley Potter assures us a generation before Julia Child that we can tackle bouillabaisse, preserves, bread, and grandmother's sacred sponge cake."
Publisher's Weekly

"This is a cookbook for modern times and modern cooks, full of sassy jokes and smartly written recipes."
Bon Appetit

"Delightfully humorous and remarkably insightful."
LA Times

"A precious find."
Boston Globe

'At Home on the Range' is, in fact, a cookbook. But it is so much, much more than a cookbook. It is a memoir of one woman's life, her marriage, and her full and happy years taking care of a family. It is also the encapsulation of the spirit of this particular womanMargaret Yardley Potter of Philadelphia, who died in 1955on the page, in such full-flowered glory that she seems by the close of the volume to be someone that we know intimately."
Buffalo News

"This is not just a book of recipes (though it has plenty of those, a perfect recipe for pressed chicken among them), but also a cookbook for life."
GQ

"[Potter] is a wonderful, entertaining writer and a keen observer."
The Kitchn

"For pure reading pleasure, try Margaret Yardley Potter, otherwise knowns as the memoirist Elizabeth Gilbert's great-grandmother... Adventurous and funny, she could have drunk and smoked Elizabeth David, M.F.K. Fisher and probably even Dorothy Parker under the table."
New York Times Book Review

"Yardley Potter's prose is laced with literary references and is as much fun to read as her dinner parties must have been to attend."
The New Yorker


A beautiful, moving, often funny collection of essays and instructions from a very eloquent writer."
Village Voice

Bracketed by Gilbert's affectionate commentary, At Home is a warm and witty memoir that captures Potter's spirited approach to cooking and just about everything else A book for all ages. What a gem."
The Philadelphia Inquirer