Anything That Burns You: A Portrait of Lola Ridge, Radical Poet (Hardcover)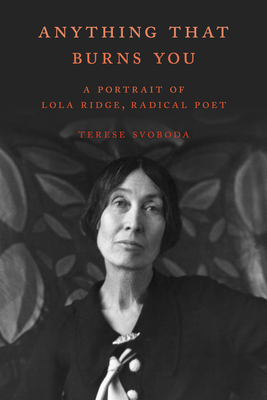 Not available to order
Out of Print. Not available to order.
Description
---
The first full-length biography of Lola Ridge, a trailblazer for women, poetry, and human rights far ahead of her time

This is a rich and detailed account of the life and world of Lola Ridge, poet, artist, editor, and activist for the cause of women's rights, workers' rights, racial equality and social reform. Author Svoboda takes the reader on a fascinating journey from Ridge's childhood as a newly arrived Irish immigrant in the grim mining towns of New Zealand to her years as a budding poet and artist in Sydney, Australia, to her migration to America and the cities of San Francisco, Chicago, and New York. At one time considered one of the most popular poets of her day, she later fell out of critical favor due to her realistic and impassioned verse that looked head on at the major social woes of society. Moreover, her work and appearances alongside the likes of Margaret Sanger, Emma Goldman, Will Durant, and other socialists and radicals put her in the line of fire not only of the police and government, but also the literary pundits who criticized her activism as being excessive and melodramatic. This lively portrait gives a veritable who's who of all the key players in the arts, literature, and radical politics of the time, in which Lola Ridge stood front and center. 
About the Author
---
Terese Svoboda is an American poet, novelist, memoirist, short story writer, librettist, translator, biographer, critic, and videomaker. She is the author of five collections of poetry, five novels, a novella and stories, a memoir, and a book of translation. Her essays, reviews, fiction, and poetry have appeared in numerous publications, including the New Yorker, Paris Review, the Chicago Tribune, Ploughshares, the Atlantic, Poetry, Times Literary Supplement, Yale Review, Slate, and the New York Times. She was the recipient of a Guggenheim Fiction Fellowship and the Money for Women Barbara Deming Memorial Prize, and she currently teaches fiction at the Center for Fiction in New York City. She lives in New York City.

Praise For…
---
"In Anything That Burns You, Svoboda resurrects with her customary passion the brilliant, voracious and scandalous early 20th century poet. In this glorious and important book, Svoboda rehabilitates Ridge from the crime of being born a woman." —Anne Kennedy, New Zealand poet and author, The Last Days of the National Costume
"In Anything That Burns You Terese Svoboda entertainingly parses the enigmatic life and powerful writing of Lola Ridge . . . A story of prejudice, ambition and personal struggle, with Ridge's long-neglected talent shining through it all." —John Sayles, twice-nominated Academy Award screenwriter, director, novelist
"Radical, modernist, fiery, glamorous, feminist— adjectives and categories can only gesture toward the enduringly significant life and works of the poet Lola Ridge, whose story has been gracefully told, with her poems lucidly understood, by Terese Svoboda." —Robert Pinsky, former Poet Laureate Consultant in Poetry to the Library of Congress
"Anything That Burns You tells the riveting story of Lola Ridge, a revolutionary and influential poet of her time . . . . Terese Svoboda has written a brilliant biography, as original as it is compelling. We need more books like this one." —Rene Steinke, author and 2005 National Book Award Nominee, Holy Skirts
"This is the biography of Lola Ridge many of us have been waiting for. Ridge was at the center of American modernism for years, not only as a writer but also as an editor and a political activist. No one who cares about American culture will want to miss this book." —Cary Nelson, editor, Anthology of Modern American Poetry
"A passionate defender of the poor and oppressed receives a full-length biography. Svoboda (Tin God, 2013, etc.), a poet, fiction writer, translator, and Guggenheim Fellow, revives Ridge's life in minute—sometimes fascinating—detail." —Kirkus Reviews
"Svoboda (A Drink Called Paradise) resurrects the fascinating life and work of Lola Ridge. A lively, complex portrait emerges . . . of a talented, driven woman for whom 'art and activism were one' and . . . a premier poet in her own right." —Publishers Weekly
"Discovering Ridge's work and life will be a delight for readers of women authors, feminism, and poetry, especially those interested in activist writers." —Stacy Russo, Library Journal
"Who the hell is Lola Ridge and how could she have never hit my radar before? It's a question we ask ourselves all too often, but in this case it is eloquently answered in Svoboda's biography of Ridge, a human rights activist and acclaimed poet." —Robert Gray, Shelf Awareness
"Svoboda presents the avant-garde and radical circles in which Ridge traveled as far more hospitable to women than many that would come later. Her book is filled with delightful accounts of Ridge's unconventional friends and contemporaries." —Laura Tanenbaum, openlettersmonthly.com